Kylie Jenner just revealed baby Stormi's pierced ears in an adorable new video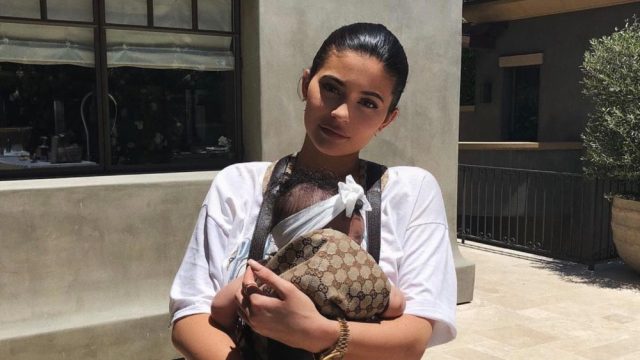 It's official: Stormi Webster has stolen our hearts. The tiny five-month-old made another appearance on Kylie Jenner's Snapchat feed on Wednesday, July 11th, this time with newly pierced ears. Jenner uploaded a pink-tinted video of Stormi tugging at her mama's hair while Kylie leans down and kisses her tiny cheek. It's a sweet, quiet moment between baby Stormi and her (almost-billionaire) mom.
Eagle-eyed fans were also quick to point out that Stormi has earrings now. Kylie uploaded another snapshot of her daughter to Snapchat the same day, showing off the new piercings.
As many Kylie fans surely know, the makeup mogul and reality star deleted all photos of Stormi's face from her Instagram account in June, leaving only those in which her daughter's features are partially obscured.
"Yeah I cut my baby out," she answered a fan on the platform. "I'm not sharing photos of my girl right now.
https://www.instagram.com/p/Bjk3ahLlq2R
Jenner did, however, bring Stormi back to Snapchat a few weeks later (albeit not with full-face shots). Snapchat might feel like a safer choice for the new mom, given its temporary nature and many filters.
In any case, we're loving the Stormi content. While of course we would love even more videos of the adorable five-month-old, it's important to remember that Kylie's family is her own to show or not show as she sees fit. Until Stormi shows up on Keeping Up With the Kardashians, we'll respect her privacy — and ooh and ahh from afar.