Here's what people *really* think about Starbucks's new tie-dye Frappuccino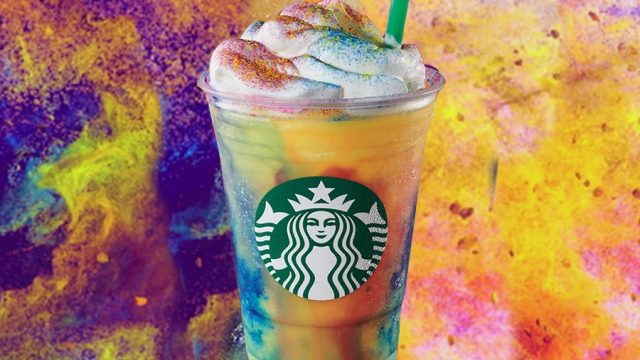 Tie-dye has been splattered all over the spring/summer 2019 runways for luxury brands like Stella McCartney, Prada, and Proenza Schouler. Taylor Swift is officially obsessed with the print, and Kylie Jenner has been showing off tie-dye nails. Now Starbucks is hopping on the trend with its new summer sip, the Tie-Dye Frappuccino. The drink, which hit the menu July 10th, looks like fireworks in a cup, a melted rainbow, Lana Del Rey's summertime sadness—guys, it's bonkers. But let's be honest with ourselves. We're absolutely going to try it.
According to the Starbucks site, the Tie-Dye Frappuccino Crème Blended Beverage is a "deliciously fruity drink" that is "vibrant with red, blue and yellow tie-dye swirls, topped with vanilla whipped cream, and dusted with red, blue and yellow powder."
The new, tropical-flavored drink is only available for a limited time—Starbucks has said "a few days." Just like the Unicorn Frapp before it, the Tie-Dye Frapp is bound to make us pucker up and give a major sugar high. Also like the Unicorn drink, it's dividing the internet.
Some are loving the Instagram-friendly Frapp.
Fans of the divisive beverage are saying the flavor isn't too sweet and it tastes like banana Laffy Taffy.
false
Others, however, aren't too happy with the flavor and are disappointed about the lack of "tie-dye."
false
false false
No matter how you feel about the drink, never forget the barista that has to make the Tie-Dye Frappuccino for you.
There's really only one way to find out what side is correct: trying the Tie-Dye Frapp for ourselves. For science. This drink won't be around forever, so act now if you want to join the Starbucks tie-dye movement.