Starbucks announced a big change to its bathroom policy after the #BoycottStarbucks incident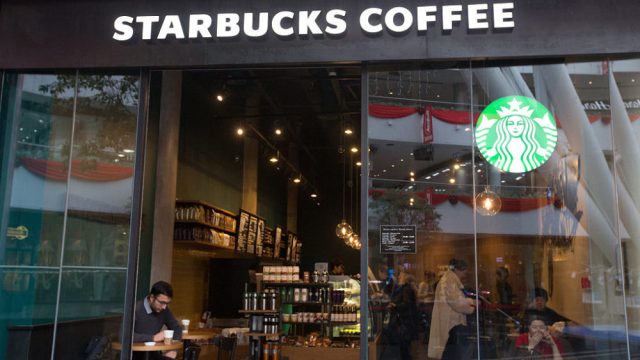 It's been nearly a month since the wrongful arrest of two black men at a Philadelphia Starbucks led to the hashtag #BoycottStarbucks. In that time, Starbucks has taken steps to apologize to the two men, Rashon Nelson and Donte Robinson, even promising to close its franchise locations on May 29th for racial bias training. And yesterday, May 10th, the coffee chain announced that it is revising its bathroom policy in the wake of the incident.
At the Atlantic Council in Washington, D.C., Starbucks Executive Chairman Howard Schultz announced that the company's bathrooms will now be open to all — regardless of whether or not you purchase a drink.
"We don't want to become a public bathroom, but we're going to make the right decision 100 percent of the time and give people the key," Schultz said in a panel discussion. "Because we don't want anyone at Starbucks to feel as if we are not giving access to you to the bathroom because you are 'less than.' We want you to be 'more than.'"
Schultz added that previously, store managers had the final say in individual locations' bathroom policies, but generally, bathrooms were supposed to be for paying customers only.
In an April 19th appearance on Good Morning America, Nelson said that he had asked to use the restroom at Starbucks after he and Robinson arrived to wait for a business meeting. He was told that only customers could use the bathroom, and as he sat waiting with Robinson, police arrived and arrested them.
https://www.youtube.com/watch?v=NWOz3OZ6J9M?feature=oembed
Days after the Philadelphia arrest, video of a similar incident in a Starbucks in Torrance, California in January went viral. In the video, a black man named Brandon Ward was denied the code to the store's restroom, even though he told the cashier he was going to buy a drink later. Ward noted in the video that he had seen a white man granted the restroom code without making a purchase. Starbucks CEO Kevin Johnson later issued an apology for Ward.
https://www.youtube.com/watch?v=3_BP4fdLE0g?feature=oembed
The steps that Starbucks has taken to change after Robinson and Nelson's arrest are encouraging, but ultimately, racial discrimination is what needs to be addressed. We need to be better.