The first official picture from Netflix's new "Sabrina" is here — and yes, we've got *chills*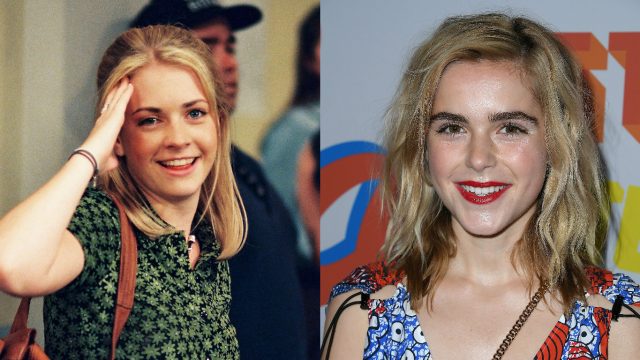 Things are about to get a lot more chilling over at Netflix. After months of watching Netflix's Sabrina reboot slowly come together, we finally have our first official look at Kiernan Shipka as Sabrina Spellman…and she looks like she stepped right out of the Chilling Adventures of Sabrina comics.
Taking to Twitter to reveal that the Netflix series will *also* be called Chilling Adventures of Sabrina, showrunner Roberto Aguirre-Sacasa gave us a glimpse of the former Mad Men star in action as the titular teen witch. The photo features a fully costumed Shipka perched on the director's chair, looking over her shoulder.
While Shipka's Sabrina looks like the sweetest teen witch in all the land, the photo is full of hints of the darkness to come. If the dark shadows and creepy Chilling Adventures of Sabrina font embossed on the back of the director's chair aren't enough, Aguirre-Sacasa's tweet makes it pretty clear the upcoming series is something out of our teen horror dreams.
"It's official! 'Chilling Adventures of Sabrina' is our title!"Aguirre-Sacasa tweeted. "Something wicked this way comes…"
First the Carrie musical episode of Riverdale and now the first official Sabrina photo? What did we do to deserve this magic?
Unlike its comedic TV predecessor, Sabrina the Teenage Witch, which starred Melissa Joan Hart is as the titular teen, the upcoming Netflix series is going to be pretty dark, having been described as "a dark coming-of-age story that traffics in horror, the occult and, of course, witchcraft." The series, which was picked up by Netflix for a two-season, 20-episode order, has even been compared to Rosemary's Baby and The Exorcist, tonally. Yep, we're going to be sleeping with one eye open after watching this one.
The first official portrait of Shipka as Sabrina comes just weeks after Aguirre-Sacasa tweeted a previously leaked on-set photo of Shipka and Ross Lynch in costume as Sabrina and her boyfriend, Harvey.
The series also stars Lucy Davis as Hilda Spellman, Miranda Otto as Zelda Spellman, Jaz Sinclair as Rosalind Walker, and Michelle Gomez as Mary Wardell. But don't fret, Salem the cat will also be making an appearance in the series.
Even though we know it will inevitably give us nightmares, we can't wait for The Chilling Adventures of Sabrina to premiere on Netflix!