Out and proud lesbian Ruby Rose is officially playing out and proud lesbian Batwoman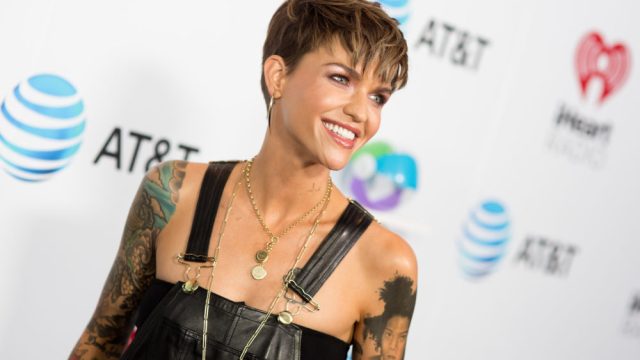 Superhero fans likely already know that there's been talk of a Batwoman series coming to the CW—specifically one in which Batwoman is an out and proud lesbian. And things just got more exciting, because the network has officially cast Ruby Rose for the role.
According to NBC, the latest incarnation of the character will first be appearing in a crossover event between four of the network's superhero shows: The Flash, Arrow, Legends of Tomorrow, and Supergirl, and Rose is slated to appear for the event.A separate Batwoman series scheduled for the 2019-2020 season is also in development, though it technically hasn't been picked up yet.
Still, we're absolutely stoked to see Rose play the iconic character—even it it's only for a few episodes.
Rose, an out lesbian and LGBTQ+ activist, became a household name in the U.S. after appearing in Netflix's Orange Is The New Black. She's since appeared in several action movies, including Resident Evil: The Final Chapter, and xXx: Return of Xander Cage…which basically makes her perfect for the role.
And while we're unapologetically obsessed with Rose, the news is exciting on another level: The CW has chosen to cast a member of the LGBTQ+ community to play a member of that community—something which rarely happens, even in 2018. This marks a major step in the right direction for representation and inclusion in an industry infamous for marginalizing non-cisgender actors.
No news yet on when the crossover event will air, but we'll be keeping our eyes out for any and all developments.