"Riverdale" is doing a musical episode, and these songs are a far cry from Josie and the Pussycats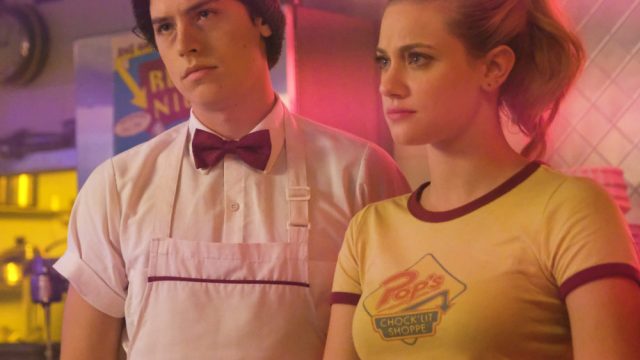 Riverdale is the sexiest, spookiest teen drama around. And while the show has always focused, in part, on music — Archie's budding music career being just one example — the show is now taking that to a whole other level. Like many teen dramas before it, Riverdale is planning a musical episode based on the musical adaptation of Carrie. Yes, *that* Carrie, Stephen King's high school horror classic.
The Riverdale musical episode will air this season and feature 11 songs sung by the cast.
Per Entertainment Weekly, Riverdale High will stage a musical adaptation of Carrie that stars the incendiary Cheryl Blossom in the title role. The majority of the main cast will be in supporting roles — Archie as Tommy Ross, Betty as Sue Snell, and Veronica as Chris Hargensen, for starters — and Kevin Keller will direct. Of course, there will also be a behind-the-scenes documentary on the student musical, and that will be filmed by none other than Jughead Jones.
All 11 songs featured in the episode will be performed by Riverdale cast members and are originals from the Carrie musical, which was first staged in 1988. It's set to air on Wednesday, April 18th at 8:00 p.m., and who knows what drama Archie and the gang will get up to by then? We still haven't even watched the Archie-Mr. Lodge fight scene yet, and a *lot* can happen between now and April. Thankfully, we do have something wonderful to hold us over until this very special episode airs…
Creator Roberto Aguirre-Sacasa and cast members alike posted an *amazing* announcement — in the form of a heavily-edited cast list.
With this, Riverdale has once again shown that it's *not* like the Archie Comics we grew up on, and we love it all the more for that. You know, as long as they don't dump buckets of pig's blood on anyone outside of the musical, of course.