Purdue students walked out of a campus standup show when a male comedian harassed a female student onstage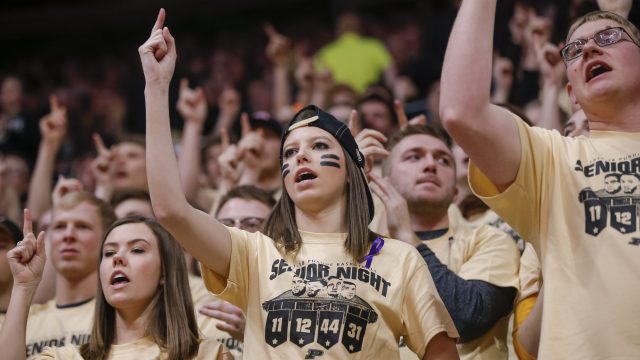 Even in the wake of the #MeToo movement, rape culture and sexual harassment remain realities on college campuses across the country. But a recent incident at Purdue University proves that many young people are taking action and making it clear that sexual misconduct is not okay, and it's absolutely not a joke. On August 18th, Purdue students walked out of an on-campus comedy set after the comedian sexually harassed a female student during his performance.
The Indianapolis Star reported that at the closing ceremony for Purdue's Boiler Gold Rush student orientation, audience members walked out in protest of comedian Andy Gross. After a series of distasteful jokes, the ventriloquist and YouTuber called a female student to the stage to serve as a volunteer. Freshman Andora Fess told the Star that the woman was a BGR orientation leader, and that Gross proceeded to sexually harass her onstage, for laughs.
"He made her stand closer and closer to him and made a joke about that giving him [an] erection and making his pants seem to say 'let me out,' referring to his genitals," Fess told the Star.
Gross also made the student stand back-to-back with him and place her hand on his upper thigh. He then performed a failed magic trick and joked that he at least got "a feel."
Students shared their disgust on Twitter with the hashtag #AndyGrossIsGross.
Purdue's Center for Advocacy, Response & Education (CARE) tweeted that students affected by the performance could reach out to CARE for support.
Student newspaper The Purdue Exponent reported that Tim Doty, Director of Public Information and Issues Management, addressed the performance in a statement.
"On Saturday night, a comedian performed as part of our BGR student orientation closing session. Accounts differ as to what exactly happened on stage, but some portions of the performance were clearly inappropriate and contrary to the university's values of respect and support for all," Doty's statement read. "We will not work with this comedian again and are proud of our students who are standing up and voicing their concerns about the performance."
As of this morning, August 20th, Gross has not commented on what happened during his BGR set.
Ignoring the boundaries of consent is never okay—even under the guise of "comedy." We're glad that Purdue is taking a stand against Gross after what happened, and we're so proud of the students who made it clear his behavior was unacceptable.