This psychic cat is making World Cup predictions, because this is the world we live in now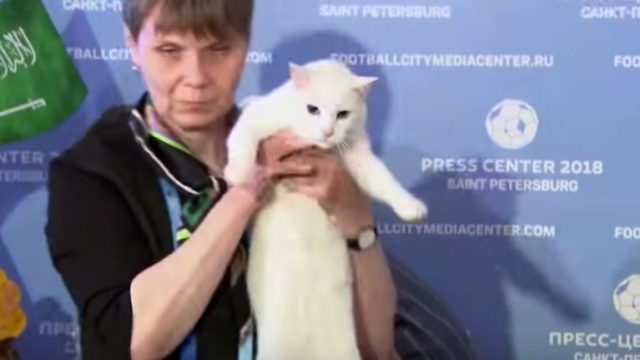 Here at HelloGiggles, we live for a good cat story (and we won't apologize for it!). So needless to say, we're all about this story about a psychic cat named Achilles…and we strongly suspect you'll be, too. Allow us to explain.
Achilles, a "cat psychic," lives at the Hermitage Museum in St. Petersburg, Russia. And he has one job: predict who will win the games in this year's World Cup. According to Reuters, Achilles underwent a strict training regimen to prepare for this duty. Wearing a kitty-sized jersey, he reportedly studied charts of the teams and game schedules before moving on to some physical training on an exercise wheel. The deaf cat is no amateur — in 2017, he honed his skills by forecasting the outcome of that year's Confederations Cup.
And how do the humans know which team Achilles has picked to win?
To make a prediction, the clairvoyant cat chooses between two bowls of food, each marked with the colors of a different country's flag. So far, this method seems to be working well for the feline. He selected Russia to win the World Cup's first game, and indeed, the host country defeated Saudi Arabia 5-0 this afternoon, June 14th.
Of course, it's possible that Achilles was a little biased. Museum veterinarian Anna Kondratyevna told the Associated Press that he "loves his motherland and couldn't vote otherwise."
There's even a video chronicling Achilles' predictions.
https://www.youtube.com/watch?v=euZitENTALI?feature=oembed
We've officially never seen a more adorable psychic.
false
Achilles may be a clairvoyant cat, but he'll have to correctly predict more than 12 games if he wants to overtake Paul the Octopus as best animal oracle.
Rest assured that we'll definitely be on the lookout for more updates from Achilles. And even if he gets it wrong, we'll still think he's purrfect.