Here's Why You Should Run for Office, Even if You Don't Think You're Ready
Because there's no better time than now.
Now that we've officially reached the middle of October, we're literally down to the wire with this year's presidential election. Tensions are high, as this is—as many are calling it—the most important election of our lifetime. Between the economy, the pandemic, protests in the streets due to police brutality, and the current commander in chief who finally, after dodging the question during the debate, condemned white supremacy on Fox News, there's not just a lot going on but also a lot at stake. And when it feels like the world is spiraling out of control, sometimes one's instinct is to take control and help make a difference. For some, that can mean volunteering or getting out there and protesting injustice, while for others it might even mean running for office. 
More women are running for office than ever before. In 2018, twice as many women ran for Congress than in 2016. Plus, according to what Emily's List—which recruits candidates and supports Democratic campaigns—reported to NPR, 920 women had reached out in early 2016 to inquire about running. And by early 2018, that number had jumped up to 30,000 women reaching out about running that year, running in the future, or just getting involved in the campaigns of other women. 
This year, the number of women running for the House (about 490) broke that record set in 2018 (which was 476). It seems we're done letting men make decisions for us; this especially appears to be the case, as the majority of these women who are running are Democrats. It's time to take a seat at the table and do things ourselves if we want them done right. 
"Our commissioner is not responsive and does not do a good job of representing our community," says Maria Barlow, of The Barlow Law Firm LLC, who ran for Cook County Commissioner in Chicago and will run again next year. "When we are not satisfied in our representation, someone should run. We all deserve the best possible people in public office. We have to hold our elected officials accountable," Barlow adds.
I spoke to three women who have run for office about why more women should run, the importance of representation, and what you should know about the process before you get started. Because there's no time like the present, after all. 
How to run for office: 
Step 1: Decide on what office you want to run for and why.
What are your passions? Where do you see yourself making the most difference? What changes do you want to enact? Once you can answer these questions, then it's time to talk to people in the business, so to speak, as you would with any other career change. "It's important to know what you want to run for, to do research on the seat and what it takes to win," Representative Anna V. Eskamani, who has represented Florida House District 47 since 2018 (and is currently running for re-election this year), tells HelloGiggles. "You want to be ready when you put your name in the ring and [be] passionate about the elected office you're working to represent."
Step 2: Research where to start and get advice.
Because we're fortunate enough to live in the day and age of the internet, so much information can be found via Google. And, because there is such a push to get more women involved in politics, there's no shortage of organizations and online communities that will have your back. For example, Running Start (which helps train women to run for office), She Should Run (which brings together women who are interested in getting involved in politics), and Emily's List (which focuses on getting pro-choice women into office) are just a few on a long list of organizations that work tirelessly to get women into political seats. 
In addition to joining organizations, don't be afraid to reach out to other elected officials. If you're running at the local level, you can easily get contact information from your town clerk's office. People who are passionate about what they do tend to be eager to share that passion with others. 
"I recommend that any woman pondering a run for office contact either current or former elected officials or people who have run before to gain insight into the process and the challenges she'll face," says Phoenix, adding that there's no greater teacher than experience.
Step 3: Educate yourself on the specifics and start a plan.
As is the case with most jobs, you need to meet certain requirements before you can run for office. It's important to get acquainted with those requirements so that if you need to accomplish anything before running, you'll get them crossed off your list ASAP. 
"Know what is required to be considered for the office—signature requirements, residency requirements, etc.," says Barlow. Different districts and different offices have, obviously, different rules and requirements. As Barlow points out, you want to have all your i's dotted and t's crossed; you also need to realize what you're up against.
"Know your opponent and what they haven't done and what you will do differently," says Barlow. If you think it's so important that you be in a specific office, you better have some hefty knowledge on your opponent and why you're the best person for the job. 
It's also important to know the reality of what you're walking into when you run for office. "Women face double standards in every industry but especially in politics," says Eskamani. "Be yourself, have thick skin, and surround yourself with folks who care about you and have your back. Ask for advice, but always trust your gut."
Step 4: Have a clear understanding of campaign funding.
As for the financial end of things, as money does play a major role in running for any office, it's important to educate yourself on campaign finance laws, which are enforced by the Federal Election Commission. It's paramount that you know how much people are allowed to donate (since there is a limit), how much you're allowed to donate to your own campaign (there are no limits in this case), as well as how those campaign funds can be spent.
"Don't announce [your plan to run] and then start looking for money," says Jess Phoenix, a volcanologist, geologist, and founder of Blueprint Earth who ran for Congress in 2018 in California's 25th Congressional District. Phoenix explains that political campaigns are "so shackled to money" that it's best if you've secured a chunk before you announce your intent to run. 
A good place to start, as Phoenix points out, is pretty much in your own backyard: friends, family, and those in the community who know and trust that you're a good candidate. Without securing a decent chunk of money before launching your campaign, "you'll be deep in a hole that'll take too long to climb out," says Phoenix.
Also, if it is your first run, don't get all glitzy with your campaign by hiring fancy consultants when you're likely to have supporters who are local and want to get involved. "Hire local people when possible, and remember that it's all about getting your name in front of voters," says Phoenix. "However, [if] you can do that [that] is great."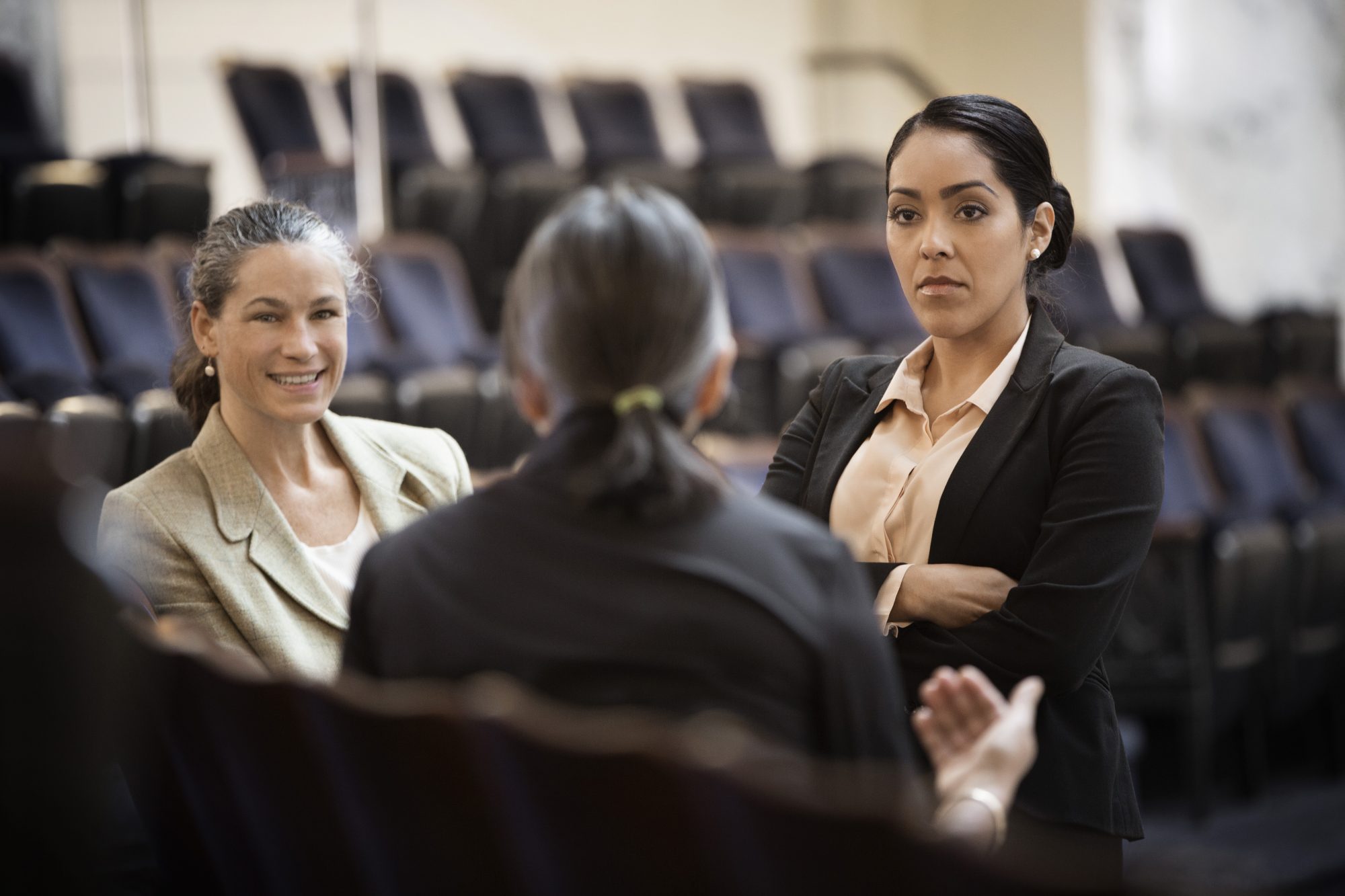 Why should you run for office
Representation matters.
Whether we look at the U.S. Congress and U.S. Senate or local politicians all over the country, we see a whole lot of the same thing: a lot of white and a lot of men. And considering there were 6.2 million more women than men in 2010, with a projection of that reaching seven million more by 2024, it only makes sense that there should be more women on the ballot—on every ballot—to represent what the country looks like.
"Representation matters," says Eskamani. "Today, the priorities of our politicians don't reflect the needs of America's everyday families, and I have no doubt that if we elected more women to office that would change. Issues like free childcare, prenatal and postnatal care along with affordable housing never rise to the top, but if you elect directly impacted people, folks who navigated these challenges in their own life, then you'll see policy change."
Eskamani, who's also the first Iranian American elected to public office in Florida, explains that in addition to representation, women are more likely to be bipartisan and sponsor more bills as well.
"When women run for office, the easier it becomes for other women to do the same and the more likely we are to see gender parity in American politics," says Eskamani.
Phoenix echoes Eskamani's sentiments. "For us to achieve true representative government, we need more people to hold office who don't fit the recent mold of older, heterosexual, wealthy, white, cisgender male," she says. "If our elected officials look like a cross-section of the U.S. population, we would incorporate the diversity of lived and professional experience into our policy-making, and that would produce better policy overall."
In other words, we can't expect a wealthy white man who's had it easy his whole life to make the right decisions for the disenfranchised. Case in point: Republican Mitch McConnell is running against Democrat Amy McGrath in Kentucky, as she and the rest of the country hope to unseat the incumbent and send him into retirement. 
During their debate last week, when McGrath mentioned the pandemic and the dire need for a relief package, McConnell laughed. Although the day after the debate McConnell said he'd bring the COVID-19 relief package back to the Senate floor the following Monday, it doesn't change the fact that he had to be convinced by McGrath to do the right thing in the first place. The obvious shouldn't have to be pointed out to a lifelong politician, but yet that's what it took.
Now's as good a time as any to run.
You don't want to be 80-something, sitting around with your grandkids, telling them how you always wished you ran for office but never did. Leaping into politics to make a difference is essential for the moment we're living in and for the future, too. Like everything in life, there's no guarantee you'll get the result you want or that the journey won't be rocky, but if you don't give it a try, then you'll never know. 
But as Phoenix explains, running for office is like any other major life decision: "You need to weigh the potential positives against the potential negatives to see if it's worth taking a chance." Ask yourself if this is something you really want to do. Do you have the time and commitment to make this a priority? Do you see yourself doing this in the future, or are you just looking for a temporary change? Then, you either jump or you don't. It's also important to remember that if you become an elected official, you don't have just one boss. You're elected by the people, so you're working for the people; you have to answer and advocate for them.
Passions can make a difference.
At the end of the day, women saw and still see a need for change and are choosing to be that change rather than waiting around for it to happen. For Eskamani, it was personal, because of her experiences growing up as a daughter of immigrants and how politics played a role in those experiences. 
"I grew up in a working-class immigrant family; we had a whole lotta love but not a lot of money," says Eskamani. "My parents worked really hard to achieve the American dream, but in 2004, my mom lost her life after a long battle with cancer. I want to make sure that we build a state where every person has access to health care, where families are safe and joy is abundant."
In the current political atmosphere, where science is being questioned on a regular basis, especially in regards to COVID-19, Phoenix believes in evidence and truth to light a fire under some people to run for office. 
"My passion for politics stems from my deep-seated convictions that we need to use evidence to make policies that do right by everyone," says Phoenix. "Equity, justice, and opportunity are huge motivators for me, as is the need to speak truth to power."
If there's anything to be taken from the last four years—and the last six months in particular—those currently at the helm of our government are steering us into an iceberg. It's time for new blood, new voices, and far more diversity if the government is going to work for all people and not just for those who look like them.