My mom went back to college and became my role model all over again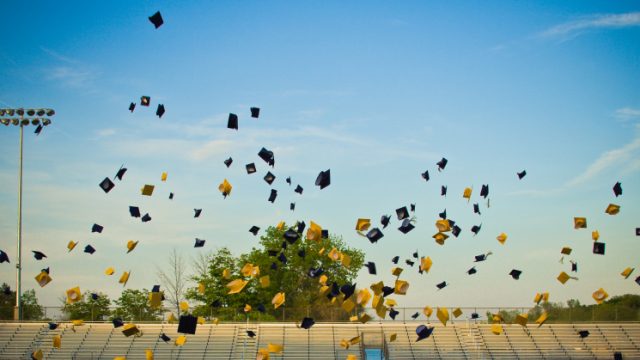 I glanced around the crowd in the gym where Ramapo College was holding its graduation ceremony. The bleachers were full of beaming moms and dads clicking their cameras, eagerly seeking the familiar young faces that belonged to them in the lineup of grads below. My sister, brother and I shifted in our seats, looking at each other and feeling slightly out of element in our role reversal. We were there for our mom, who was graduating college at age 51.
When it was her turn to cross the stage and accept her diploma, we cheered as boisterously as any other group of family and friends. She deserved it. Arriving at that moment had been a journey of setbacks followed by moving on; a lesson in resiliency and perseverance for us all.
Mom had been a stay-at-home mom, or "domestic engineer" as she liked to call herself, raising three children for more than 17 years when my father left her for a woman who was closer to his daughters' age than his own and decided to start a new family — a tale so resoundingly familiar it sounds clichéd, except when your family has to live through it.
Mom was a nurse in her native England before she married and quit her career to have children and follow my father, an executive for a multinational company, around the world. In Britain, as in many countries throughout the world, professions such as nursing and teaching don't require university degrees as they do in the United States. Certification is through a vocational training school. Besides, my grandparents didn't have the money to send their children to university, and according to my grandfather, there wasn't much point in a girl getting a degree, anyway.
Decades later, at the uneasy stage of midlife, Mom unexpectedly found herself forced to forge a new path in life. This time, she was determined it would pivot on independence. Maybe it was taking me to tour colleges in Boston and New York, but she suddenly decided to go to college herself.
Unsure of what to expect, she tentatively enrolled in a few classes at Ramapo College, a state school near where we lived in northern New Jersey, as I went off to Boston University. I asked her why she didn't go full-time. "I don't know if I'll like it," she said. I half-expected her to drop the whole enterprise, but boy, did I get a surprise when I came home for winter break.
She had registered as a full-time student, declaring a pragmatic major of business administration (as compared to my English major), and changes had dawned over the household. Instead of the aroma of peanut butter cookies wafting from the kitchen, now came slow but steady clacks of a keyboard. I tripped over towers of textbooks dotting the floor. "I came home to get away from school, not be the middle of it," I protested.
Homework parties were arranged around the dining room table and I quickly became the official term-paper editor. The loud silence of a library reigned throughout the house after Mom bought earplugs so my brother could watch cartoons as she did her assigned reading. Cereal bowls were no longer laid neatly on the table every morning. Shopping and errand lists took their place. Tired of microwave meals, my brother complained, "I'm sick of airplane food."
Debates about Alexis de Tocqueville and the nuclear arms race replaced soccer game schedules and pick-ups and drop-offs as dinner table conversation, but Mom's favorite topic was feminist issues: suffragettes, the glass ceiling, workplace harassment. Brothers and boyfriends would quietly slip away to the TV while my sister and I received lectures about financial independence and assertiveness training.
At college, since she was old enough, or older, than the mothers of most of her classmates, she was naturally regarded as a kind of "class mom." Students knew right away who to ask for a Kleenex or an extra pen, for advice on lost loves and family problems. In fact, she had classes with some of my high school classmates, and got to know them better than I did.
Much to my sister's and my chagrin, she pulled practically straight A's. (She graduated with a GPA of 3.8, higher than any of her three kids.) She never missed a class, always turned in her homework assignments on time, and made sure to sit in the front row. Glowering, my sister called her "goody-goody" and "preppie."
After graduation, Mom quickly landed a job as a software engineer. She'd chosen a cutting edge field that couldn't get enough skilled employees and paid a good starting salary, a much wiser career choice than mine — journalism. The person most taken aback at my new mom? My dad. Even he had to admit admiration for her accomplishment.
At an age when many people narrow their life choices, Mom expanded hers. She'd pushed herself to conquer trepidation, to learn a totally different skill. By empowering herself, she empowered her daughters with her grit and resiliency. That's being a true role model.