Meghan Markle's L.A. home is up for sale, and we want to buy it with all our friends
These days, Meghan Markle lives in Frogmore Cottage—a quaint, 10-bedroom Windsor home with lush gardens and mausoleums—with her husband, Prince Harry, and son Archie Harrison. But once upon a time, she was an actress living in a rental house in Los Angeles. And now, that two-story colonial home is for sale, so you can live out your duchess dreams by living like a pre-royal like Markle…for a cool $1.8 million.
According to the New York Observer, Markle shared the Hancock Park rental home with her ex-husband Trevor Engelson when she was starring on Suits and living between the U.S. and Toronto, Canada, where the series filmed. The 2,262-square-foot home is now up for sale, and it honestly looks like a dream—if you're ballin' on a pretty sizable budget, that is. Maybe we can buy it with all our friends we've ever known, together.
Per the official property listing on Homes.com, the house has lots of great amenities, including four bedrooms, an open concept design, an al fresco dining area, and three bathrooms, with marble countertops and modern, stylish features throughout.
Markle apparently lived in the house with Engelson, whom she began dating in 2004 and was married to from 2011 to 2013. We're just a teeny bit jealous of those lucky Angelenos who are house-hunting and have a $2 million budget, because this home looks gorgeous, bright, and airy.
You can check out the rest of the photos in the real estate listing, and daydream a little about what it'd be like to call this charming colonial home. Of course, Markle now lives in a pretty picturesque cottage with her family just south of Windsor Castle in Windsor Home Park, but her former digs aren't too shabby, either, if we do say so ourselves.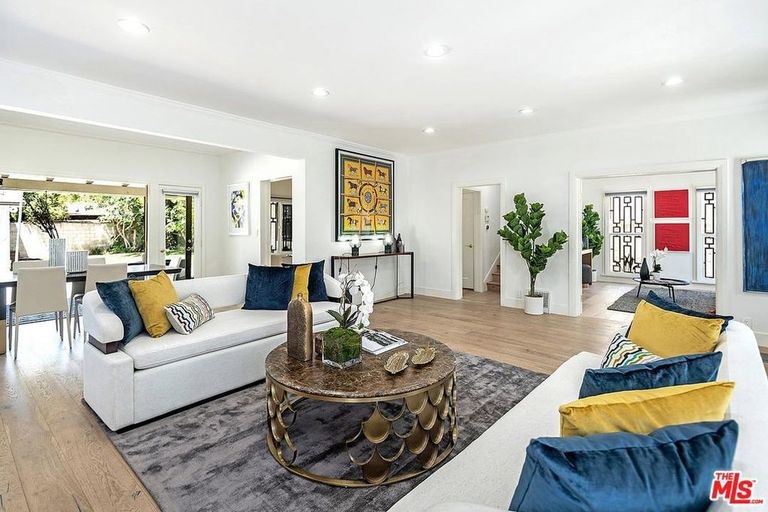 This isn't the first time one of Markle's residences has gone up for sale since she met Prince Harry: Back in 2017, her three-bedroom Toronto home was listed for an equally cool $1.395 million, so excuse us while we dare to dream a little.