Carrie Bradshaw's favorite bakery is giving away free cupcakes (to you!) to celebrate Sex and the City's 20th anniversary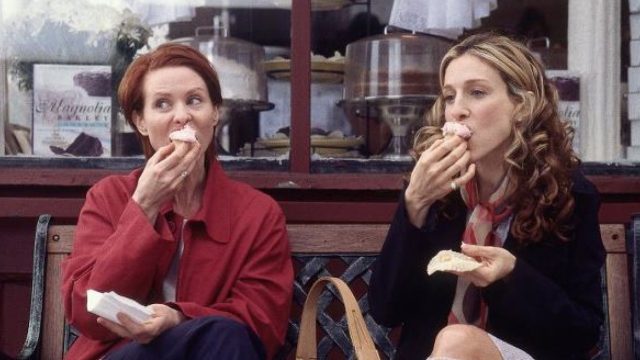 It's been eight years since the last Sex and the City movie hit theaters, and even longer than that since the show aired new episodes on HBO. But if you're still just as in love with Carrie, Charlotte, Miranda, and Samantha as ever and you live near a Magnolia Bakery, there's an awesome way to celebrate the show's 20th anniversary: with free cupcakes, duh.
According to People, Magnolia Bakery — where Carrie and Miranda were seen eating cupcakes during an episode of the show — is giving away 50 Carrie-themed cupcakes to fans on June 6th to mark the show's big anniversary, and honestly, we can't think of a better way to pay tribute to Ms. Bradshaw and her pals…except maybe wearing a pink tutu to pick up your freebie.
All you have to do to get your free cupcake is be one of the first 50 people to show up at any of Magnolia's nine locations between 12:00 and 1:00 pm EST on June 6th. That's it! Free cupcakes. How much easier could it be?
And the cupcake itself couldn't be more perfect. "Vanilla cake with pink pastel buttercream and a daisy flower on top," says People's description of the treat. Um, yum? It should look exactly like the pink one in this pic, which means it's adorable, too.
Want even more free cupcakes? Enter Magnolia's contest: Grab your cupcakes and reenact Carrie and Miranda's famous scene on the bench, post it on Instagram, and tag @magnoliabakery (of course, you have to be following them, too). On July 8th, the bakery will choose three winners to take home a dozen free Carrie cupcakes. Best prize ever or what?
Set a reminder on your phone for June 6th and enjoy your free cupcake. Carrie would want you to.