Lena Dunham is defending a "Girls" writer accused of sexual assault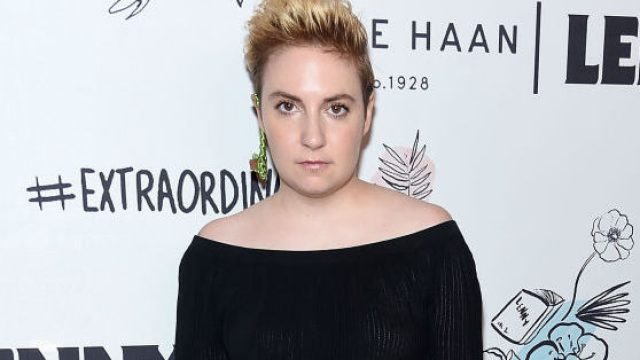 In the continuing post-Harvey Weinstein aftermath, more and more people are coming forward with stories of alleged sexual misconduct. The most recent man accused of sexual assault is Girls writer Murray Miller.
23-year-old actress Aurora Perrineau (you know her from the movies Passengers and Jem and the Holograms) filed a police report in Los Angeles this week around the alleged incident. The alleged assault occurred when Perrineau was 17 years old, according to The Wrap. Perrineau alleges that she met Miller at the Standard Hotel in Los Angeles while with friends, and admits that she had "consumed some alcoholic beverages." She claims that Miller asked them for a ride home, that they all went inside his house, and that she later woke up naked in his bed where he was "having sexual intercourse with [her]" against her consent.
Since the police report was filed, Miller's legal team has released a statement denying the accusations, citing evidence that they had gathered, The Wrap continues. The statement also alleged that Perrineau's lawyers first asked Miller for "substantial monetary damages," and when those were denied, she filed the report. Perrineau's mother has since denied that her family or lawyers asked for any money.
The co-creators of Girls, Lena Dunham and Jenni Konner, have also released a statement on the matter.
And what they said might surprise you. (Then again, it might not.)
Dunham and Konner have thrown their support behind Miller. In a joint statement, they said that Perrineau's accusation is "one of the 3 percent of assault cases that are misreported" each year. Dunham and Konner cite "insider knowledge" that convinced them, including their long working history with Miller.
Here's the full statement from Konner and Dunham.
"During the windfall of deeply necessary accusations over the last few months in Hollywood, we have been thrilled to see so many women's voices heard and dark experiences in this industry justified," the statement says, according to Entertainment Weekly. "It's a hugely important time of change and, like every feminist in Hollywood and beyond, we celebrate. But during every time of change there are also incidences of the culture, in its enthusiasm and zeal, taking down the wrong targets.
It continues.
"We believe, having worked closely with him for more than half a decade, that this is the case with Murray Miller. While our first instinct is to listen to every woman's story, our insider knowledge of Murray's situation makes us confident that sadly this accusation is one of the 3 percent of assault cases that are misreported every year. It is a true shame to add to that number, as outside of Hollywood women still struggle to be believed. We stand by Murray and this is all we'll be saying about this issue."
Though they said they weren't saying anything else, Dunham also tweeted more in addition to the statement.
Dunham and Konner's stance has caused a lot of backlash.
Many people on social media find Dunham and Konner's position ironic. Prior to this, they had been vocal supporters for believing women.
Like, very vocal.
https://www.instagram.com/p/BanfV1eFgdK
People are calling Dunham out on Twitter for the statement.
They are also saying this is the epitome of white feminism.
false
Dunham and Konner aren't the only women dealing with male friends who have been accused of sexual assault and harassment.
It's an uncomfortable position for sure. But perhaps it's helpful to look at how Sarah Silverman recently talked about how to deal with a friend accused of sexual misconduct.
Silverman spoke about Louis C.K., her longtime friend, after he made headlines for his sexual misconduct.
"One of my best friends of over 25 years, Louis C.K., masturbated in front of women," Silverman said on her Hulu talk show I Love You, America. "I could couch this with heartwarming stories of our friendship and what a great dad he is, but that's totally irrelevant, isn't it? Yes, it is. I love Louie, but Louie did these things. Both of those statements are true. So, I just keep asking myself, can you love someone who did bad things? Can you still love them? I can mull that over later, certainly, because the only people that matter right now are the victims. They are victims, and they're victims because of something he did."
It's worth thinking about how this translates into our own lives. Sooner or later, if we haven't already, many of us will hear rumors or firsthand accounts from women accusing our male friends of assault or harassment. What will we do? How will we respond?