Olympic gymnast Laurie Hernandez now has her very own Barbie, and we asked her what it means for girls everywhere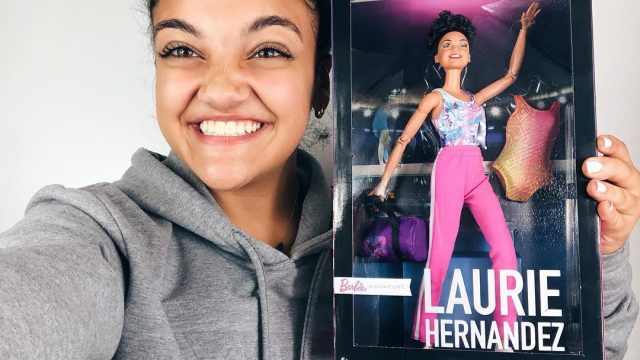 Olympic gold medalist Laurie Hernandez captivated the world with her dazzling floor exercise routines and positive energy during the 2016 Rio Summer Olympics. After becoming the first Latina woman to compete for the U.S. in over 30 years, Hernandez has since used her platform to inspire girls to believe in themselves and chase their dreams—and her work has not gone unnoticed.
In fact, Mattel has recognized Hernandez as a "Shero" honoree, releasing the Laurie Hernandez Barbie Doll today, August 14th. She is the epitome of strength and confidence, and we couldn't think of a more worthy woman for this honor.
The 18-year-old started gymnastics at age 6 because she wanted to experience the feeling of flying and now, she's soaring to new heights. Like her role models Misty Copeland and Chloe Kim before her, Hernandez had a Barbie designed in her likeness to celebrate her groundbreaking achievements. It's all part of Mattel's new "Shero" collection, which honors female role models who inspire the "next generation of girls that they can be anything."
Hernandez worked closely with Mattel to make sure that the doll's every detail—from her hair to her flexibility—was accurate.
"I think that it looks like me a lot," she told HelloGiggles. "It has my curls, which makes me very happy."
https://www.instagram.com/p/BmdWasSDZ3c
The doll also comes with two signature leotards from Hernandez's GK gymnastics line, as well as sweatpants, shoes, and a duffle bag.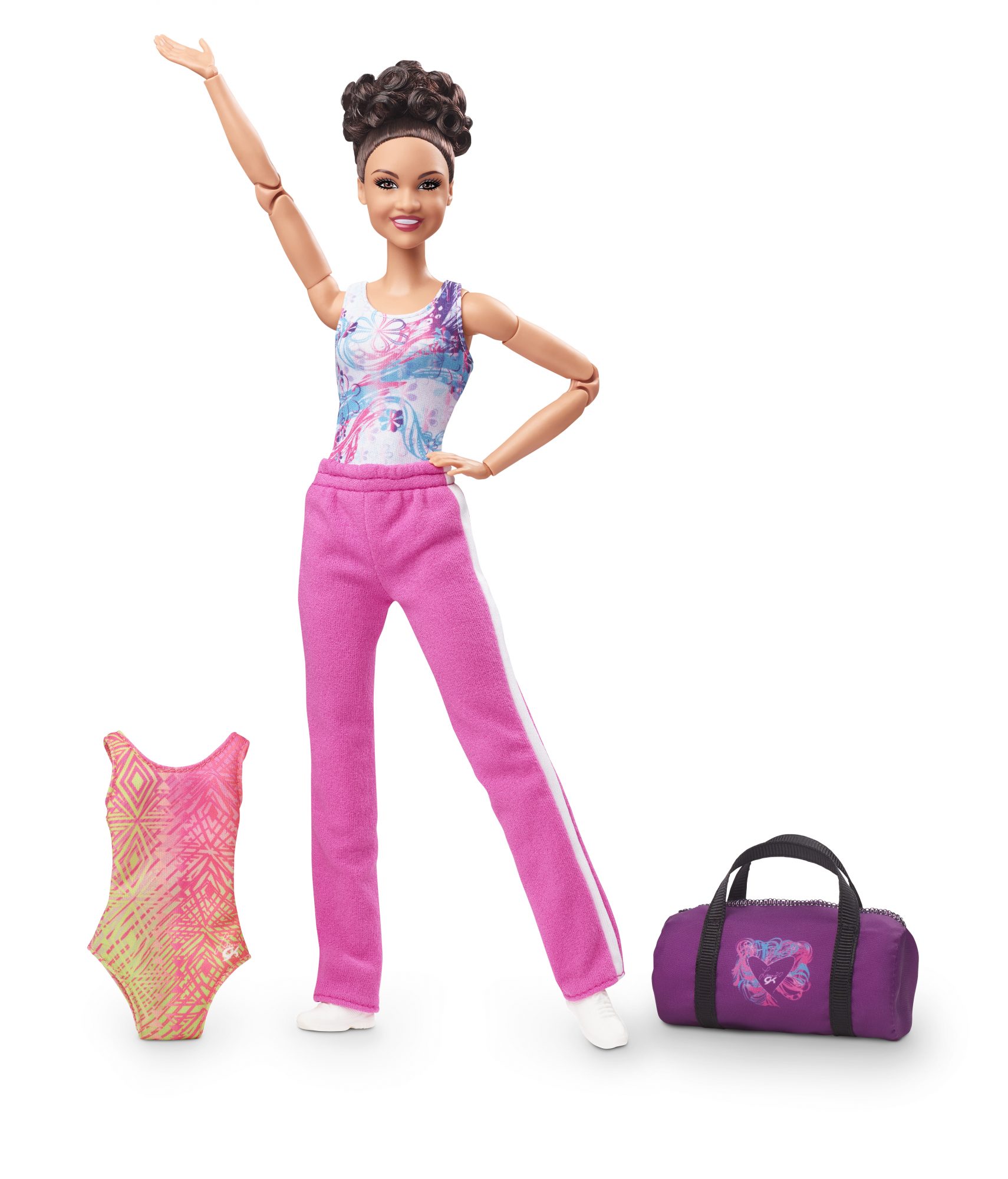 To celebrate the release of her Barbie, we asked Hernandez how it feels to be honored and what this means for young girls.
"I was really surprised and excited, just because Barbie was something that I always loved as a kid," she gushed. "My biggest hope is to inspire all the girls out there, because that's how I started gymnastics—by looking at someone else. I think Barbie—especially the Sheroes—they're doing just that."
HelloGiggles: What advice can you give to young girls to feel more comfortable in their own skin?
Laurie Hernandez: I think that when you're going through puberty—especially as a gymnast—it's kind of an interesting roller coaster because we strive for perfection. We want our routines to be perfect. We want our leotard, our hair, our makeup, and sometimes even the way we look to be perfect. When you get injured or you need to take time off or when you start going through puberty, watching your body change is a big change, and it's weird and sometimes you don't really understand what's going on.
I think it's just important to take the time to understand that, you know what, I'm growing and that's okay and I'm completely comfortable with who I am. I'm so excited that girls get to play with my Barbie and hopefully get inspired to try gymnastics or just feel inspired to try any sport or hobby that they love.
HG: Who is your favorite body positive advocate?
LH: I saw Emmy Rossum's post about firing back at body-shaming comments and her just being like 'Oh, you want to know how much I weigh? Well, I weigh the value of my family and friends and the moments that make me happy.' She just shut that down so perfectly. I think Ashley Graham is also an incredible advocate for [body positivity] and promoting self-love and to not change for those around you.
HG: Was there a specific moment when you realized that you have this platform to influence a new generation of young girls? Does that scare you, or are you open to the responsibility?
LH: I'm absolutely open to it. I think that it's an honor to have this platform. I realize and recognize that so many people are watching what I'm doing and I have an opportunity to spread positive messages and spread positivity and hopefully inspire all the people who are following me to try something new and to be comfortable with themselves. I definitely take that as a responsibility.
HG: We've seen Barbie evolve for the new generation of girls. She's even doing vlogs now. Have you had the chance to watch her feminist pep-talk video that teaches girls to drop the "sorry reflex"?
LH: I did have a chance to watch it. Honestly, it was a big wake-up call for me. I am that person. If someone bumps into me, I apologize even if it wasn't really my fault. It was a really big eye-opener for me and a lot of people, and I don't think we realize how much we apologize. I was very self-conscious about saying sorry after watching the video because I didn't realize how many times I was apologizing for things that I really didn't need to apologize for at all. Go Barbie!
HG: You always look so happy. What's your secret?
LH: A lot of my happiness comes from just being grateful and being in the moment. We can post as much as we want on social media, but it's not like I'm happy all the time…that's impossible. But if I'm able to spread some happiness, I think that's really important. My happiness also comes from my family and them just being so supportive in everything that I do. I have the best siblings and the best parents in the world. It's also just taking time to be grateful for the little things and all the big things that happen. I think that if you can appreciate what you have, a lot of your happiness really stems from that.
https://www.instagram.com/p/BdbXSIbgloQ
HG: What are your plans for the rest of the year? Any new projects?
LH: My next project is actually transitioning back into gymnastics. I took a two-year break and I'm going to try it again. I think that would be extremely exciting. I still love the sport completely and I'm very passionate about it, so we'll see how that goes.