Kristen Bell and Dax Shepard spotted their twins at the Olympics, and we're seeing double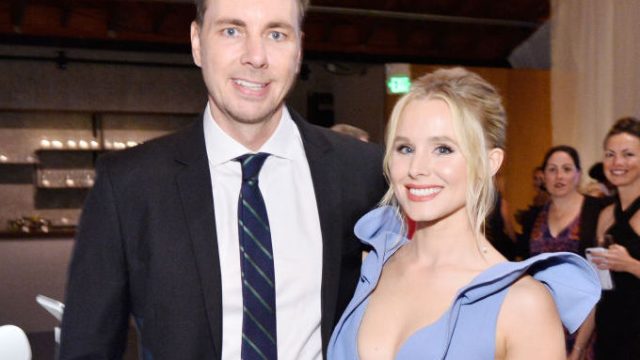 Couple of the year (century?) Kristen Bell and Dax Sheppard are pretty great. But what if there were two of each of them? We might die from adorableness. However, it appears some versions of Bell and Sheppard are walking around this earth, and the couple found them all thanks to the 2018 Winter Olympics.
The two were watching women's figure skating on TV. And when U.S. figure skater Bradie Tennell took to the ice, they found their doppelgangers in the crowd. During Tennell's performance, the camera flashed to her mother and brother sitting in the stands. Lo and behold, the two seem a bit like they're caught in a Kristen Bell and Dax Shepard time warp. The Good Place star noticed that Tennell's mom, Jeannie, looks like Bell 20 years into the future. While Tennell's brother looks like Shepard, but thrown 20 years into the past.
It's a pretty eerie coincidence. Of course, once they noticed their Olympic lookalikes, they had to recreate the pose Tennell's family was in. And they had Bell's costar D'Arcy Carden snap a picture for Instagram. The pic shows the similarities, especially between Shepard and Tennell's brother. There's just something about his wide-eyed, big-mouthed grin that rings true. Congratulations, guys, you found your perfect doppelgangers!
Here are Kristen Bell and Dax Shepard twinning with their Olympic twins.
If there really were two Bells and two Shepards, that would mean 2X the fun and 2X the relationship goals. Recently, for example, Shepard had a cameo on The Good Place. His character, a demon, came onto Bell's Eleanor Shellstrop with the line: "Damn, you got that good stank." They can even make a horrible pickup line like that seem cute!
Here's hoping these two lovebirds end up getting to meet the Tennell family in person. It could be a fun consolation prize for Bradie, who unfortunately fell during this year's Olympic Games. If anyone can perk her up, it's Kristen Bell.