Did anyone kneel during the 2018 Super Bowl? Regardless, Twitter stepped in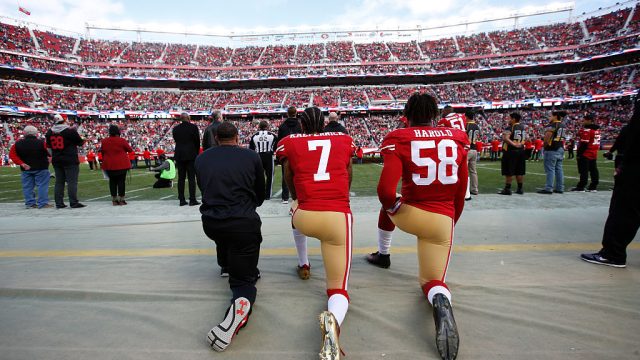 Whether or not you're a fan of football, there's been a lot in the news recently about NFL players kneeling during the National Anthem, and the situation has gotten pretty controversial. The Take A Knee movement, which was created by Colin Kaepernick in 2016, is a powerful expression of free speech, and acts as protest against police brutality and racial injustices in America. A former quarterback for the San Francisco 49ers, Kaepernick inspired other NFL players to join the protest. However, the big question on everyone's minds lately has been whether or not any players would kneel during the 2018 Super Bowl.
Truthfully, we're a little disappointed by what happened. None of the NFL players kneeled or remained on the bench during the National Anthem, but that doesn't mean Kaepernick's movement is over. Many people — including veterans — expressed their support for the movement, and the results are inspiring.
Even if no one took a knee on the field at the 2018 Super Bowl, Twitter kept the movement going.
https://twitter.com/udfredirect/status/960292448034525185
https://twitter.com/udfredirect/status/960297704986464256
"I am not going to stand up to show pride in a flag for a country that oppresses black people and people of color," Kaepernick told NFL Media after the game that started a movement. "To me, this is bigger than football and it would be selfish on my part to look the other way. There are bodies in the street and people getting paid leave and getting away with murder."
We're proud of the NFL players who have taken a stand (or a knee), and we absolutely respect their right to do so. The right to protest and freedom of speech is a vital part of any democracy. We can't wait to see how this support manifests in the future.