Someone made a life-size Kim Kardashian cake, and we're really not sure we'd want to eat it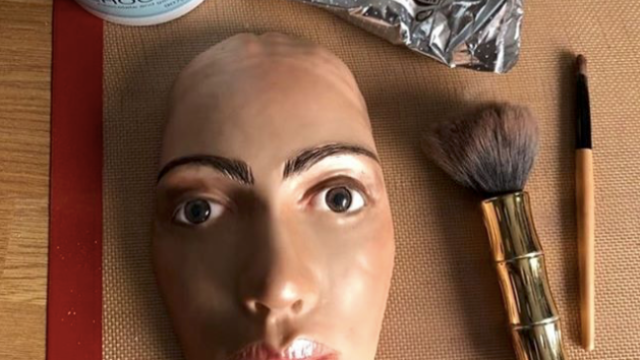 Celebrity wax figures are out and celebrity cakes are in! Someone made a life-size Kim Kardashian cake, and it's exactly what it sounds like. The cake looks like Kim and stands as tall as a human woman. This edible Kardashian sculpture was created by "caketress" Debbi Wingham using a 3D printer and a bunch of yummy treats. Technically, the cake isn't an exact replica of Mrs. West — it's an exact replica of someone who just happens to look a lot like Kim Kardashian. Basically, a Kim K doppelgänger commissioned the cake in her own likeness, so really, it's a look-alike of a look-alike. However many times we repeat it, we still can't believe this is real life.
The cake artist says she printed the face with a 3D printer using "edible materials." She then used modeling chocolate, fondant, and other "edible powders" to paint and contour the cake's face (lol at the phrase "cake's face"). According to Metro.co.uk, the body of the cake was created with "85 boxes of rice crispy cereal, and over 30,000 baby marshmallows."
The photos shared by Wingham — the cake genius responsible for this — are absolutely fascinating.
You can check out full-size photos of the Kim cake here.
Wingham actually specializes in anthropomorphic cakes. She made this cake in the image of an Arabic bride and called her/it/the cake "the million dollar bride":
Wow. Gives new meaning to the phrase "looks too good to eat."