Julie Chen is leaving The Talk after her husband, Les Moonves, resigned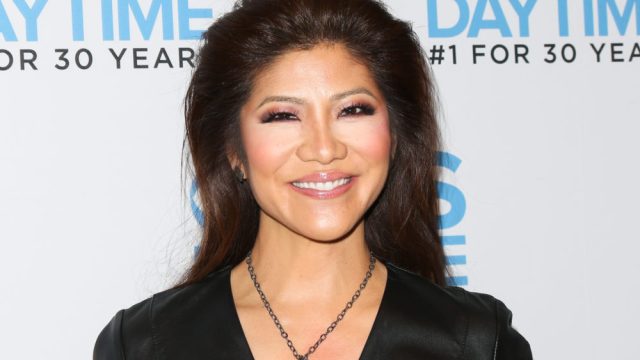 After sexual misconduct allegations emerged against CBS chairman and CEO Les Moonves, TV host and producer Julie Chen stood by her husband, even as he stepped down from his position. And in the wake of her husband's departure from CBS, Chen is reportedly leaving her role on the morning talk show The Talk.
CNN reported Chen's decision to quit last night, September 17th. She had taken time off from the show in the immediate aftermath of Moonves' resignation, and she didn't appear on the September 17th episode. Two unnamed sources told CBS that she was leaving The Talk effective immediately.
"She has decided that her main focus needs to be clearing her husband's name from accusations made 25-30 years ago and tending to her son," one of the sources told CNN.
The Talk played a pre-recorded clip at the end of the September 18th show in which Chen thanked viewers and her fellow castmates for the past nine years, and confirmed that she currently needs to spend more time with her husband and son.
Chen will reportedly continue to host the CBS reality show Big Brother.
Moonves announced his resignation on September 9th, after The New Yorker reported sexual misconduct allegations from six additional women, bringing the total number of accusers to 12. Later that same week, Designing Women creator Linda Bloodworth-Thomason published a scathing op-ed chronicling Moonves' persistent verbal abuse and attempts to stall her career.
After the first accusations against Moonves emerged, Chen defended him in a Twitter statement:
"Leslie is a good man and a loving father, devoted husband and inspiring corporate leader," she wrote. "He has always been a kind, decent and moral human being. I fully support my husband and stand behind him and his statement."
Chen also expressed her support of her husband on the September 13th episode of Big Brother, when The Hollywood Reporter noted that she signed off as "Julie Chen Moonves." It was the first time she had used her husband's name professionally.
More details of Chen's departure and Moonves' misconduct are likely to be revealed in the coming weeks. Until then, as always, we stand with survivors of sexual misconduct—including Moonves' accusers.