The trailer for Amy Poehler's new sitcom I Feel Bad is here, and it's the diverse show we deserve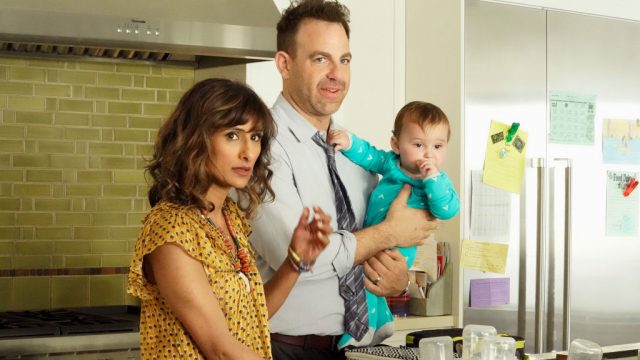 Amy Poehler is making her triumphant return to Thursday nights on NBC. Except this time, she'll be behind the camera. And her new sitcom, I Feel Bad, is exactly the diverse show we need in 2018.
I Feel Bad stars Sarayu Blue (Blockers) and Paul Adelstein (Scandal) as Emet and David, a married couple just trying to figure it all out. It's based on I Feel Bad: All Day. Every Day. About Everything., a 2017 book by Orli Auslander (who serves as a consulting producer on the show). Auslander's hilarious collection of too-relatable illustrations is about trying to do your best, but still constantly feeling like a failure. That sentiment is definitely a driving force of the sitcom.
"Here's what every woman knows: We feel bad about something every day," Blue's character Emet says in the trailer. "I never know what I'll feel bad about, but I know it's always just around the corner."
The trailer also introduces us to the couple's children and Emet's parents, Maya (Madhur Jaffrey) and Gabriel (Brian George). In just two and a half minutes, we learn Emet is worried that 1. She's turning into her mom, 2. Her co-workers think she's old, and 3. Her daughter shouldn't join the dance team at school. Basically, she's just trying to balance work, life, and family. Aren't we all?
I Feel Bad will premiere in NBC's coveted Thursday night lineup this fall.
In must-see TV tradition, the two-hour block of shows is one of their finest Thursday night lineups yet. Prime time will kick off with Superstore, keep the laughs coming with The Good Place, and give you the giggles with Will & Grace. Then, finally, it's time for I Feel Bad. Not bad, NBC. Not bad.
Watch the I Feel Bad trailer below.
https://www.youtube.com/watch?v=XMCbf-oWDe0?feature=oembed
We feel pretty good about I Feel Bad. Is it fall yet?