How many DACA Dreamers are there? This is the number of undocumented immigrants at risk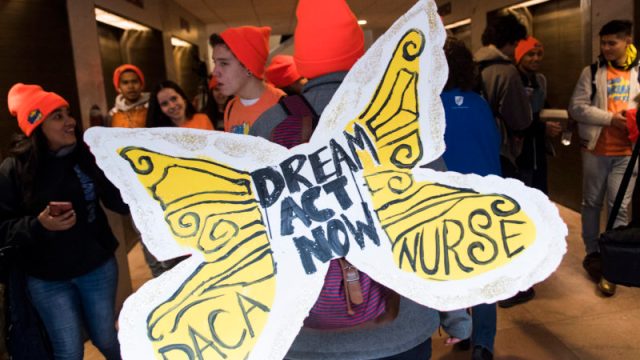 Dreamers are still waiting in the wings as lawmakers clamor for a new Deferred Action for Childhood Arrivals (DACA) replacement plan. A bipartisan agreement was reached and then rejected by President Trump on January 11th, thus leaving the masses of undocumented immigrants brought to the U.S. as children in limbo once again.
How many of these DACA Dreamers are currently at risk for losing their benefits?
According to the Pew Research Center, as of September 2017, approximately 800,000 young undocumented immigrants have received protection under DACA since its 2012 creation. The U.S. Citizenship and Immigration Services reports that as of September 4th, 2017, 690,000 of these Dreamers are currently enrolled in the program.
Two-thirds of DACA recipients are ages 25 and younger, and the majority of Dreamers are young women (53%). In order to receive DACA benefits, applicants must have entered the U.S. before their 16th birthday "and to have been under the age of 31 as of June 15th, 2012," the Pew Research Center shared. These applicants must also be enrolled in high school; have a high school diploma, GED, or be a military veteran; and be free of felony or misdemeanor convictions.
The DACA program, enacted by former President Barack Obama, allows undocumented immigrants to legally remain in the U.S. for two years. At the end of that two-year term, recipients could apply for renewal.
On October 5th, the DACA renewal process was halted by the Trump administration. Then on January 10th, U.S. District Judge William Alsup ordered the renewal process to continue while a lawsuit against the Trump administration's decision is pending. Those immigrants up for DACA renewal are now rushing to reapply before this order is potentially terminated.
The deadline to pass a DACA replacement bill is March 5th. The current uncertainty is threatening hundreds of thousands of lives. We need action, and we need it now.