Gwyneth Paltrow's engagement party was so lavish that people think it was a secret wedding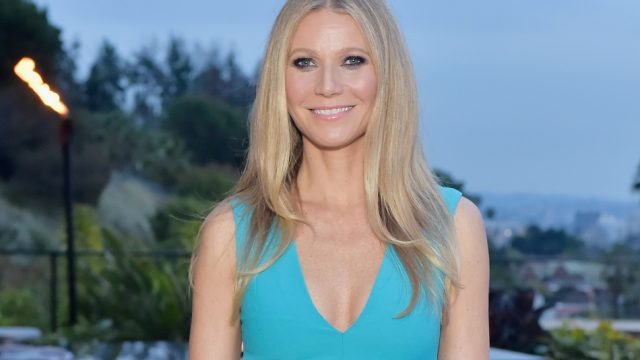 Gwyneth Paltrow knows how to throw a party. Not only was her engagement party with fiancé Brad Falchuk reportedly extravagant, but it was also well-attended, with some of Paltrow's most famous friends present. Here's what we know about it.
People.com reports that the party, which was a black-tie event, had an "intimate and very special" vibe to it. The gathering took place this past Saturday, April 14th, at the Los Angeles Theatre. Paltrow, who was styled by iconic stylist and close friend Elizabeth Saltzman, wore a stunning purple dress from Giambattista Valli and had her hair done by celebrity stylist Lorenzo Martin.
The Los Angeles Theatre had a special marquee for the couple — one side said "BF Loves GP," while the other similarly stated "GP Loves BF." How cute is that?!
People.com reported that the guest list included Jennifer Aniston, Reese Witherspoon, Kate Hudson, Cameron Diaz, and Julia Roberts. Falchuk and Paltrow have been linked since 2014, years after meeting on the set of Glee. Paltrow announced their engagement this past January, stating in an issue of Goop that, "I have decided to give it a go again, not only because I believe I have found the man I was meant to be with, but because I have accepted the soul-stretching, pattern-breaking opportunities that (terrifyingly) are made possible by intimacy."
Paltrow looked so lavish that some believe this might not have just been a party — it may have been a wedding. But nothing's been confirmed (and if anyone was going to throw an epically lavish engagement soiree, it'd be GP).
https://twitter.com/udfredirect/status/985860787477491712
As you can see, she was all smiles upon entering the theater.
Here's a closer look at her dress, which we want in our closets ASAP.
We hope that Gwyneth Paltrow and friends had an amazing evening. Our only regret is not getting an invite.