Eagle-Eyed Fans Spotted a Major 'Gilmore Girls' Shoutout at the Emmys
We've missed you, Stars Hollow.
Gilmore Girls might not have been nominated for an Emmy last night, but the energy of Stars Hollow was alive and well just the same. During the virtual awards show, Gilmore Girls creator Amy Sherman-Palladino and husband Dan Palladino tuned in from none other than the Dragonfly Inn, aka Lorelei and Sookie's picturesque bed and breakfast from the beloved show.
The Palladinos were both nominated for Outstanding Directing for their current hit show, The Marvelous Mrs. Maisel. Anyone who has seen both shows will instantly recognize their similarities: quick-witted characters, super-speedy dialogue, and hilarious punchlines.
While waiting to hear who won the directing award last night, the Emmys feed showed the couple sitting in a cozy space that featured a Dragonfly Inn sign above the fireplace.
To jog your memory, the Dragonfly Inn was Lorelai and Sookie's dream project that they renovated and ran together for multiple seasons of the show. It's unclear whether or not the Palladinos were in their own home and decided to rep their hit 2000s show, or if they were using a virtual background—but Gilmore Girls fans were thrilled, regardless.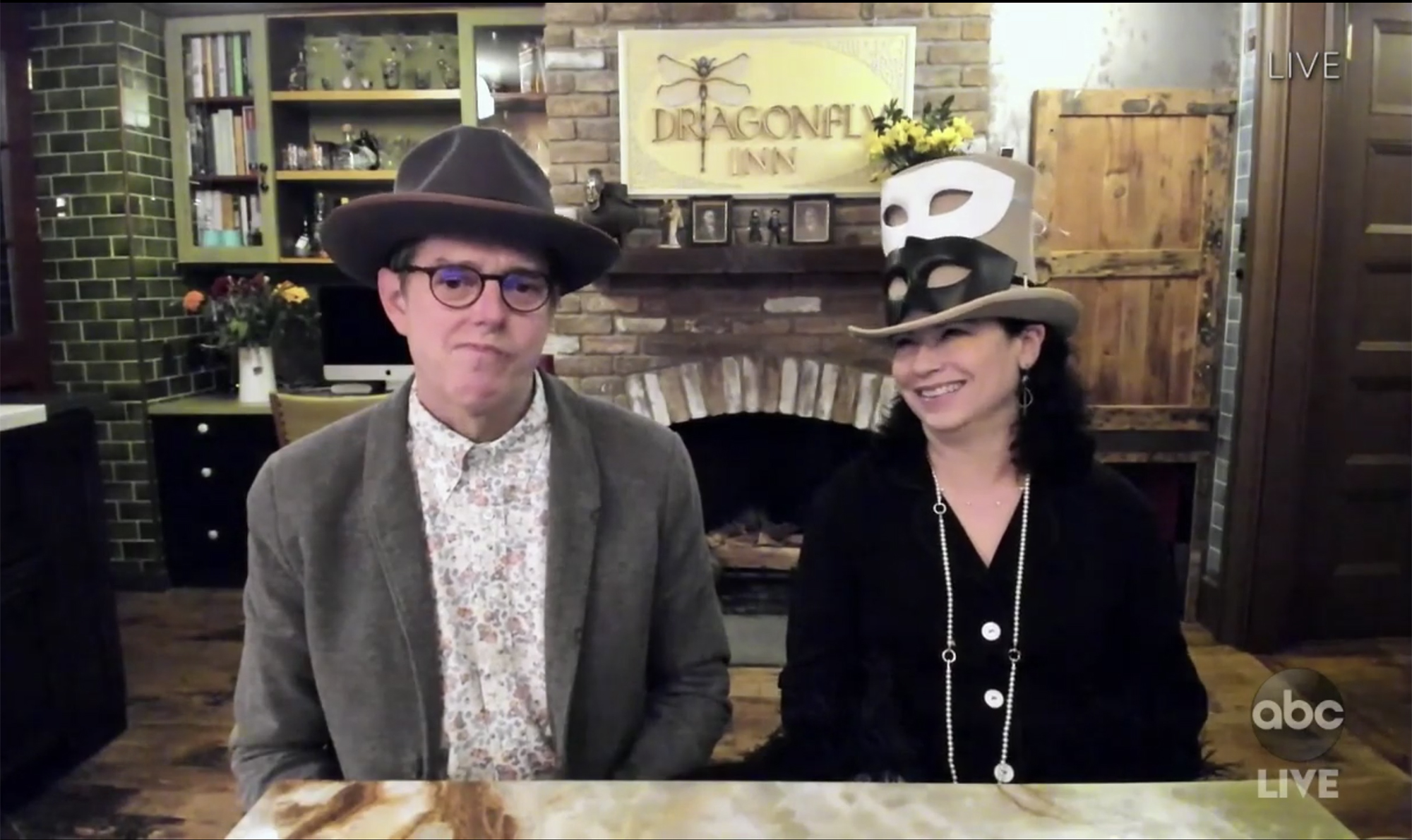 Gilmore Girls fans quickly spotted the shoutout during the show and went into a frenzy on Twitter, eager to see if the Sherman-Palladino home includes more Stars Hollow relics.
Some fans even crossed their fingers that this was strategically planned, hoping that Sherman-Palladino was sending fans a cryptic hint. However, Gilmore Girls was already rebooted in 2016 for Gilmore Girls: A Year in the Life, so we're skeptical that this shoutout means anything major. We'll let Lorelai and Luke stans have their moment, though.
Gilmore Girls will never get old, and we love that Sherman-Palladino agrees, even when she's in the midst of working on another epic show for the ages.