Over 100 parents and students showed up to support Nathan Etter, a gay teacher who was disciplined for getting flowers from his husband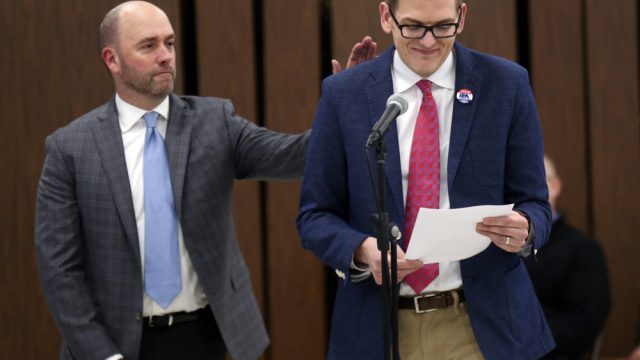 Everyone deserves flowers from a loved one — no matter who they are or what the occasion. But unfortunately, not everyone agrees. When music teacher Nathan Etter of Burlington, Illinois received flowers from his husband on Valentine's Day, he was met with several "ewws" from some of his students. Etter used the moment to briefly teach his pupils about tolerance, reminding them that sometimes men marry men and women marry women.
Sadly, not all parents were happy. A formal complaint was filed to the Kane-county based Central Unit School District 301, with some adults claiming they had "serious concerns" about what was being taught in the class. Etter was subsequently told to "stick to the curriculum" by the school principal.
Now, Etter is demanding an apology, and (thankfully) many people from the school and the community agree. On Monday, April 23rd, over 100 members of the community showed up for a "rally for equality" at the school board's meeting with signs that read "We respect Mr. Etter" and "Respect For All." Etter even received a standing ovation.
Etter's husband told NBC5, "This would never have happened if Nathan had been sent flowers from his wife."
School board President Jeff Kellenberger told the community that "the district had no further concerns and considered the matter resolved." He also said that Etter's job "was never in jeopardy." 
"Discrimination, harassment, exclusion or intimidation in any form have no place in our schools and are not tolerated in District 301, Kellenberger said. "There is nothing to protest here. We are with you.
Let's hope that this victory leads to the district, parents, teachers, and students alike embracing more diversity and equality.