Emily Ratajkowski's stunning engagement ring is literally two massive diamonds fused together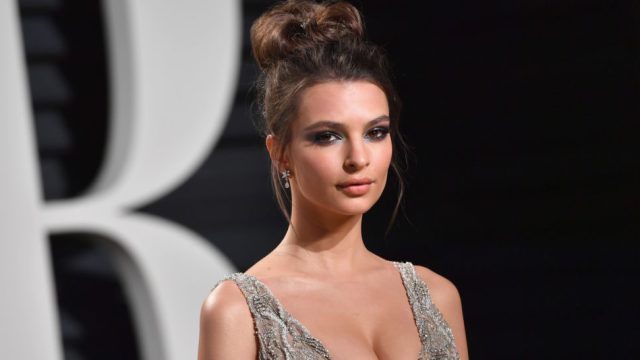 If there's one thing we've learned about Emily Ratajkowski, it's that she does things her own way. She was the first celebrity to surprise us with an impromptu engagement/marriage this year when she wed her music producer boyfriend Sebastian Bear-McClard in N.Y.C.'s City Hall at the end of February. Although she's been sporting a simple gold band since tying the knot, Ratajkowski took to Instagram last night, July 11th, to debut her new, massive diamond.
The Sports Illustrated model previously admitted that her husband's proposal was such a spur-of-the-moment decision that she almost turned him down.
"He proposed to me at Minetta Tavern, and he didn't have a ring," she told Tonight Show host Jimmy Fallon in April. "And then he took the paper clip that the bill was paid with and made me a ring which I actually thought was really romantic."
But it looks like he's made up for it by gifting his now-wife with not one, but two giant diamonds. The ring, which is directly below her wedding band, features a blinding pear and princess cut diamond sitting alongside each other. It's utterly unique…and very shiny.
She shared her new ring on IG without a caption, but really, we think the diamonds speak for themselves.
Ratajkowski also posted a second photo, which shows her holding her hand up to her face with her bling on full display.
Even though this new ring is absolutely gorgeous, we have a feeling Ratajkowski will definitely keep her simple gold wedding band.
"They were supposed to be temporary rings but now I'm very attached and I really don't want to get rid of it. I just feel like making it yourself, like could you be more personal, really?" she told Fallon.
We couldn't agree more. Congrats again to the happy couple.