Watch Ellen DeGeneres scare the bejeezus out of Benedict Cumberbatch with a giant Iron Man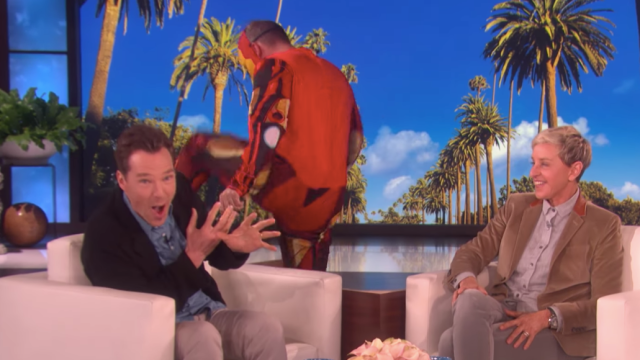 Whether or not you've seen Avengers: Infinity War yet, you already know the meeting of the minds of Tony Stark (Robert Downey, Jr.) and Doctor Stephen Strange (Benedict Cumberbatch) is going to be one for the ages. The two narcissistic, egomaniacal geniuses are both legends and leaders in their own right, but stick two of the same kind of man in the same room and sparks will fly. It's no spoiler to say that watching these two Marvel characters verbally spar is one of the highlights of Infinity War, and now Ellen DeGeneres has given Cumberbatch yet another reason to resent his onscreen counterpart's frenemy.
Cumberbatch visited The Ellen Show to hype Infinity War, along with his new Showtime series Patrick Melrose (wow, he's really having *a week* isn't he?), and while DeGeneres got him talking about his desire to try out acting in a horror film, she made him live through one in real life. The queen of getting A-list stars to scream like little girls on camera found a great new target in Cumberbatch, because she literally scared the bejeezus out of him. And she did it with a man dressed as Iron Man, which is just the greatest cherry on top of the most delicious sundae.
Watch the amazing moment below around the 3:48 mark:
https://www.youtube.com/watch?v=5JYqTSSH6IA?feature=oembed
Honestly, Cumberbatch's reaction only makes him dreamier, because it's just relatable AF. He didn't act like a Marvel badass sorcerer would in the face of a jump scare; he acted like a real human person with unintentional reactions. And duh, if we were him, we'd also be on a "real high-alert paranoid trip" for the rest of that interview, waiting for yet another Marvel character to jump out of another hollowed-out piece of furniture. It's just survival instincts kicking in!
Plus, hearing Cumberbatch scream, "F-k off!" at the Iron Man jumping in his face is going to make the perfect new ringtone for our phones. So thanks for that, DeGeneres!