Columbia University has settled with the male student accused in the "mattress girl" rape case
This week, Columbia University made an undisclosed settlement with Paul Nungesser, the male student at the center of the "mattress girl" rape case. If that doesn't ring a bell, let's rewind. In  2012, then-Columbia University student Emma Sulkowicz accused Paul Nungesser, another student at the time, of raping her on the first day of classes their sophomore year; Nungesser claimed the sex was consensual. After Sulkowicz filed a complaint with the university, a disciplinary panel held a hearing and found Nungesser not responsible for the alleged crime. Two other students also accused Nungesser of sexual assault.
Sulkowicz felt the university mishandled her case, and turned her outrage into a powerful piece of performance art entitled "Mattress Performance (Carry That Weight)."
For a year, she carried a 50-pound mattress around campus in protest of the school's decision. The university gave her academic credit for her project — it was her senior art thesis — and even allowed her to carry the mattress on stage during her graduation ceremony. Nungesser, meanwhile, says he found himself ostracized and condemned after the allegations and the art piece, so he sued Columbia University a week before graduation. 
According to The New York Times, Nungesser sued for "supporting what he called an 'outrageous display of harassment and defamation' by giving Ms. Sulkowicz academic credit for her project."
In a statement, Columbia said of the settlement, "Columbia recognizes that after the conclusion of the investigation, Paul's remaining time at Columbia became very difficult for him and not what Columbia would want any of its students to experience. Columbia will continue to review and update its policies toward ensuring that every student — accuser and accused, including those like Paul who are found not responsible — is treated respectfully and as a full member of the Columbia community."
For her part, Sulkowicz has been vocal on many occasions about the difficulties of speaking out about her experience, and the effects the alleged rape have had on her life.
She told Elle in an interview:
"During 'Mattress Performance,' people were speaking as if they had some sort of expertise or that they knew what happened in that room that night. The other thing that was really interesting slash frustrating was how many people were saying, 'Well, a real rape survivor would never carry a mattress, a real rape survivor would not do this.' And I was like, 'Huh, what?'"
In many campus rape cases, the well-being of the accused is made paramount to the well-being of the victim. A high-profile case last year involving former Stanford student Brock Turner offers a prime example: He was found guilty of three counts of sexual assault, but was sentenced to just six months of jail time because a longer sentence would have had "a severe impact on him," according to the judge in his case. He was released after a mere three months.
Survivors, meanwhile, suffer an array of lifelong physical and mental health consequences after experiencing rape.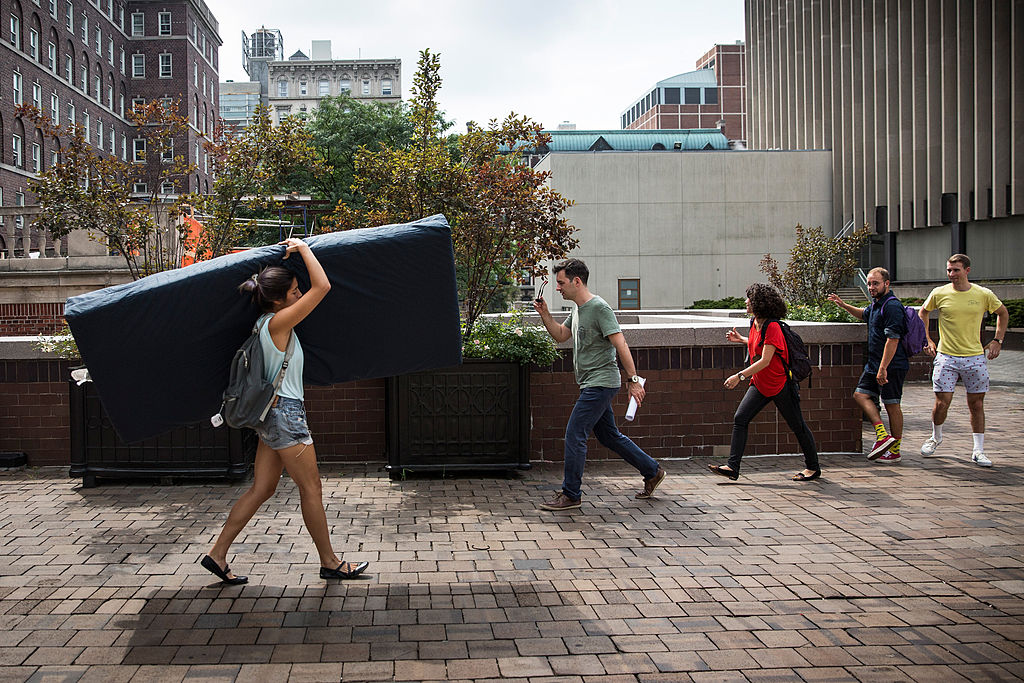 While there was progress for campus rape victims under the Obama administration, most notably its "It's On Us" campaign, and a move by the Education Department to investigate sexual assault-related Title IX violations by some schools, the Trump administration is turning back the clock, revisiting the 1972 law known as Title IX that has provided some recourse for survivors, and opening the door for those accused of rape to tell their stories.
According to The New York Times, Candice E. Jackson, who heads the Education Department's Office for Civil Rights, believes:
"...she sees 'a red flag that something's not quite right [about how Title IX has been used in campus rape cases] — and that the rights of accused students have too often been ignored."
Additionally, Education Secretary Betsy DeVos has already met with several men's rights' groups. According to ABC, she's had meetings with the National Coalition for Men, and organizations that speak out on behalf of those accused of sexual assault, such as Families Advocating for Campus Equality and Stop Abusive and Violent Environments.
Though she refuses to say what exactly the Trump Administration plans to do regarding campus rape allegations, survivors' advocates are concerned about the move to protect those accused of rape.
"There's a popular narrative that survivors and advocates want to create secret hearing processes that automatically throw accused students out of school — but nothing could be further from the truth," said Sejal Singh, a policy and advocacy coordinator for Know Your IX, in an interview with Glamour.
"We often see schools deny these rights [such as adequate time to prepare for hearings, and opportunities to present evidence] to survivors, tilting investigations in favor of abusers. By guaranteeing [these rights] to both sides, we can make sure school disciplinary procedures are more fair."
The road ahead for campus rape survivors seeking justice seems foggy, but we're glad advocates refuse to remain silent.