Chris Hardwick will also return to NBC to host several more shows, and how about not?
Remember that episode of Boy Meets World where Mr. Feeny commented, "We live in a random and chaotic universe"? Well, we live in a random and chaotic universe. Not only was Talking Dead host Chris Hardwick reinstated by AMC in July, but NBC has now deemed him worthy of returning to not one, but two hosting gigs.
In June, actress Chloe Dykstra penned a personal essay for Medium about the physical and emotional abuse she endured by a former boyfriend. While Dykstra never name-dropped Hardwick, readers were quick to piece the information together. Dykstra and Hardwick publicly dated for two years from 2012 to 2014, and much of the details Dykstra provided pointed to Hardwick's career.
In the wake of Dykstra's article, AMC replaced Hardwick with Yvette Nicole Brown as interim host for Talking Dead, a series that takes on a talk-show format to discuss episodes of The Walking Dead and Fear the Walking Dead. Hardwick was also removed from AMC and BBC America panels at this year's San Diego Comic-Con. He was set to moderate panels for The Walking Dead, Fear the Walking Dead, and Doctor Who.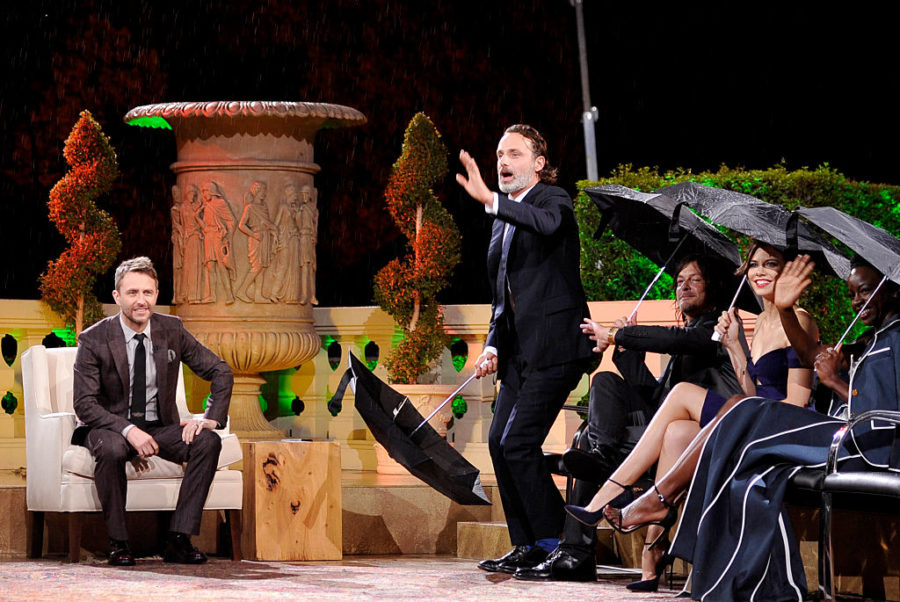 In a statement, AMC explained:
"Following a comprehensive assessment by AMC, working with Ivy Kagan Bierman of the firm Loeb & Loeb, who has considerable experience in this area, Chris Hardwick will return to AMC as the host of 'Talking Dead' and 'Talking with Chris Hardwick.' We take these matters very seriously and given the information available to us after a very careful review, including interviews with numerous individuals, we believe returning Chris to work is the appropriate step.
And now, according to Variety.com, NBC is bringing Hardwick back to host Season 3 of the gameshow The Wall and he will also be appearing as a guest judge on America's Got Talent. Because like…no one else less problematic was apparently available.
Wow. We live in a random and chaotic universe — one where individuals are rarely held accountable for their actions.