Twitter thinks Cardi B paid homage to this iconic performer during her Coachella set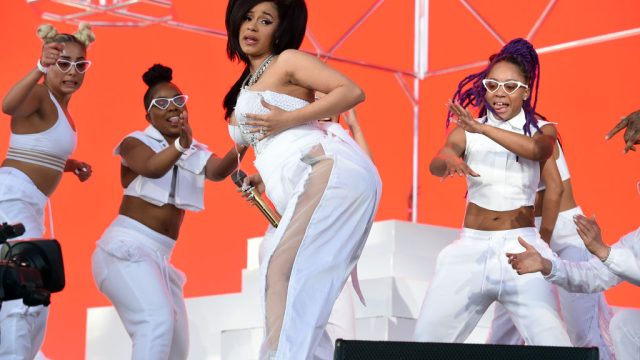 While Beyonce's Coachella performance is all over our timelines, we cannot overlook Cardi B's debut Coachella performance. Cardi B took to the Coachella stage on April 15th and immediately proved to naysayers with unapologetic sexiness that her pregnant belly does not hinder her talent one bit. She ran through her recent hits and brought out famous friends like Chance the Rapper, 21 Savage, YG, G-Eazy, and Kehlani. She also honored another performer who is no longer with us: Lisa "Left Eye" Lopes.
Twitter pointed out that Cardi's hair was a perfect homage to the late TLC member. Plus, Cardi and her dancers' all-white wardrobes were a total tribute to TLC's ~lewks~ at the 1995 VMAs. This isn't the first time Cardi has made her affinity for Lopes known. She name-checked her on the song "Thru Your Phone" and made a TLC reference on "Be Careful."
Twitter instantly recognized Cardi's Left Eye-inspired hair and all-white ensemble at Coachella.
"Cardi B dressed as Left Eye for the 3rd day of Coachella. You don't know how much that touched my soul. Left Eye has been my idol since I was 10," wrote one fan.
Another fan accurately pointed out: "Love Cardi's homage to Left Eye. It's perfect honestly. Left Eye was just as spunky and outspoken as Cardi is."
false false false
Someone else noted that Cardi's outfit seemed to honor another late singer: Selena Quintanilla.
All respect and no offense to #Beychella, but Coachella Day 3 was undeniably all about #Boachella.