11% of Britons have a zombie apocalypse strategy — you know, just in case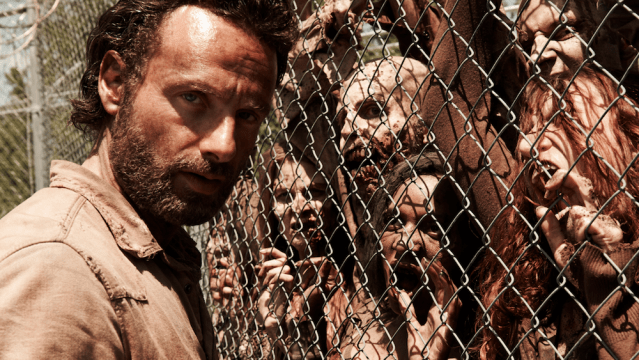 Do you have a zombie apocalypse plan? You could always learn from this girl who paid very close attention to The Walking Dead. Or you could check out our handy-dandy list of best cities to head to during a zombie apocalypse. Or you can take note from Britons because they're taking this super seriously.
A recent survey by YouGov found that 11% of Britons are ready for when zombies take over the planet. Which, TBH, is pretty inspiring considering that a zombie apocalypse seems pretty much right around the corner with everything else going on in the world. Hurricanes, earthquakes, fires — why not zombies next?
The survey begins by explaining what exactly a "zombie plan" is, if you're a newbie to the whole "zombie apocalypse" thing.
"For those of you unfamiliar with the term, a 'zombie plan' is a plan for what to do in the case of a zombie outbreak," the study states. "Given that zombies do not exist (yet) such plans are currently purely theoretical."
So what advice can these World War Z aficionados offer us in light of a zombie apocalypse?
Hiding somewhere is the most popular course of action when things go down, followed by gathering supplies or relocating (i.e escaping their zombie-infested city). What's surprising (or not so surprising, maybe), is that 9% of people refused to reveal their plan at all.
The study notes that a quarter (23%) of zombie planners will use weapons in some way, but only 13% of all planners acknowledge they'll have to take a few zombies out (or, very possible, other survivors). Some haven't even considered what supplies they'd gather, if any. Props to those who want to wing it.
Even better than the survey results? Post-apocalypse plans that still include social media.
Safe to say you'll be able to binge-watch everything on Netflix (at least until your battery dies). And if you don't have a plan, you can't sit with us.
https://twitter.com/udfredirect/status/906082790952853504
Here's to surviving all those zombies! And hoping that Norman Reedus comes to cradle my post-apocalypse kids.
Hey, he's got zombie experience, right?