A major character is missing from the new GoT trailer, and people have theories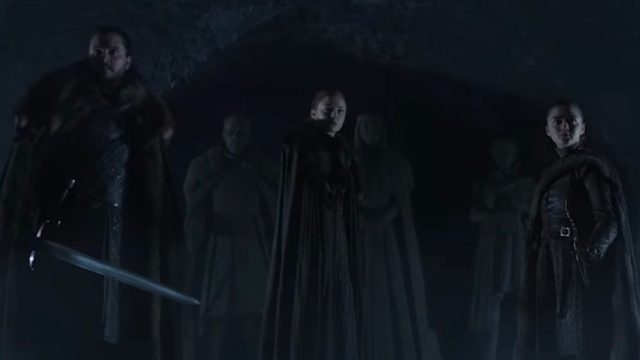 A premiere date is finally here. After what felt like a very long night, HBO has finally revealed that Game of Thrones will return for its final season on April 14th. Last night, January 13th, HBO dropped the big news during the True Detective premiere with a special—and eerie—teaser set in the Winterfell crypts. The Stark-centric clip reminds us of the stakes surrounding Jon Snow's parentage, as well as what all the Starks have lost during the series' seven seasons.
In it, we see Jon, Sansa, and Arya walk through the crypt beyond the statues of their fallen family members, finding themselves standing in front of statues of…themselves? As the war against the White Walkers looms ahead, the scene immediately takes a (literally) chilling turn as the siblings turn to face a frost overtaking the crypt.
https://www.youtube.com/watch?v=wA38GCX4Tb0?feature=oembed
There's a lot to dissect here, from Robert's feather to the voiceovers from Lyanna, Catelyn, and Ned, to the fact that this teaser marks the first time the three siblings have shared a scene since the pilot. However, there's one major absence fans couldn't help but notice.
Bran, the final remaining Stark sibling, is nowhere to be found.
While many fans online joked about Bran's lost invitation to the Stark reunion, others speculated that the teaser might actually be a vision—as opposed to footage filmed specifically for the promos. However, there's an even more sinister theory floating around: The icy chill overtaking the Winterfell crypt is none other than the Three-Eyed Raven himself, Bran Stark. That's right, the long-running "Bran is the Night King" theory not only lives on, but is seeing new life thanks to the ominous omission.
https://twitter.com/udfredirect/status/1084638386105868289
false
https://twitter.com/udfredirect/status/1084635368924704768
false
false
As much as we dissect, analyze, and theorize, one thing is very clear: It is going to be a long and stressful 90 days as we wait for Game of Thrones to return. April 14th can't come soon enough.