"Blue's Clues" is getting a reboot, and YOU can audition to be the new host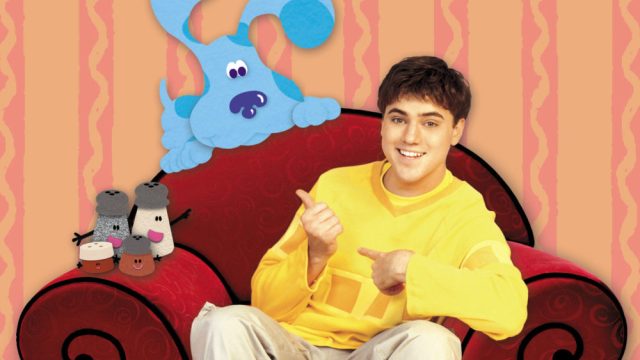 Listen, we live in a time when practically every day, it feels like, an older television show or movie is getting rebooted. So it's never really that much of a shock to learn that a movie like Overboardor a show like The Office is making a comeback. But when a kids' show you watched when you were younger gets an update? It makes you feel old AF, y'all. In this case? One of our childhood TV faves, Blue's Clues, is getting a reboot.
As Nickelodeon announced at its upfront on Tuesday, March 6th, the network is reviving the children's show that ended in 2006 after a 10-year run starting in 1996. The original show starred the titular character — a blue dog named, you guessed it, Blue — and his owner, the show's host. The first Blue's Clues host, Steve Burns, ran the show until 2002; then, Donovan Patton took over.
Nickelodeon announced that it's actually having an open casting call for the host for the new version of the show, which already has a 20-episode order.
So, ya know, if you were a huge Blue's Clues fan back in the day, then this might just be the perfect job for you. And you should probably (read: definitely) drop everything to go audition. Seriously, it's the gig of a lifetime!
Nickelodeon's president, Cyma Zarghami, explained, "The new, modern version of Blue's Clues will capture all the original's creativity and visual identity for a whole new audience ready for its fun adventures and expertly designed problem-solving curriculum."
So once the premiere of the new Blue's Clues arrives, fans, kids, and parents alike can expect some nostalgic nods to the OG — and some modern updates, too.