A white student at Yale called the police on a black student for napping in a common area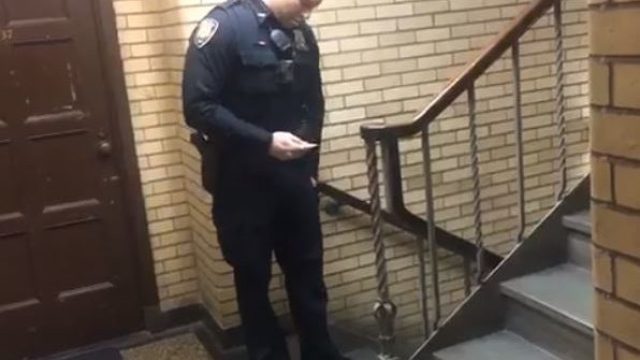 In the past month, several prominent instances of racial profiling have renewed the conversation about bias and racial stereotypes. It started with the wrongful arrest of two black men in a Philadelphia Starbucks, and, shortly after that, another black man was denied access to a Starbucks bathroom. Most recently, a white student at Yale University called the police when she found a black student sleeping in a common area.
Late on May 7th, Lolade Siyonbola, a graduate student at Yale, was taking a nap in the common area of the graduate dorms when a white student reportedly turned on the lights and said she couldn't sleep there. A video Siyonbola posted to Facebook showed a white female student snapping pictures of her and saying, "I have every right to call the police."
As depicted in a longer video posted to Siyonbola's Facebook page, which has been viewed nearly 950,000 times, the Yale police arrived and told the 34-year-old African Studies student, "We need to make sure you belong here." In response, Siyonbola took out the key to her room and unlocked the door, but the officers still asked to see her ID.
"I deserve to be here. I pay tuition like everyone else," she told the campus police. "I'm not going to justify my existence here."
Siyonbola eventually relented and handed the officers her ID. But because the name on her ID card did not match the student database, the officers took longer than usual to verify her identification. After about 15 minutes, Siyonbola was released.
Today, May 10th, Kimberly Goff-Crews, secretary and vice president of student life at Yale, addressed the incident in a statement posted to the university's website. Goff-Crews wrote that she was "deeply troubled" by the incident and wrote that, in response, the school would hold listening sessions for students and appoint staff members to help address concerns about equality and discrimination.
"All of us in senior leadership recognize that incidents such as this one are being framed within a difficult national context," she concluded her statement. "I want to underscore our commitment to carry out our mission as a university in an ethical, interdependent, and diverse community of faculty, staff, students, and alumni, where all are respected."
What happened to Siyonbola highlights the importance of acknowledging racial bias. Discrimination and racism are clearly still big issues in the United States, and we need to work to end these attitudes.