Someone called the police on a black state legislator while she was canvassing in her own district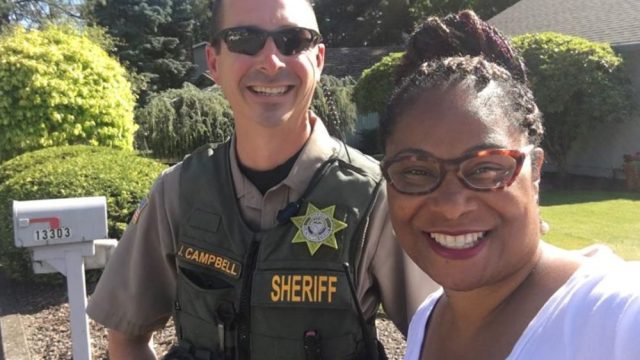 Since April, when the wrongful arrest of two black men at a Philadelphia Starbucks made national news, it's seemed like incidents of racial bias have been making headlines almost weekly. There have been reports of white people calling the police on innocent black people for barbecuing, mowing the lawn, and even napping. And now, someone called the police on Oregon state lawmaker Janelle Bynum — who happens to be black — while she was canvassing in her own district.
Bynum was knocking on doors in Clackamas, Oregon on July 3rd when she was suddenly approached by a county sheriff's deputy, CBS News reports. The officer informed her that someone had called the police on her because she was spending a lot of time at doors and typing a lot on her phone. Bynum explained who she was and informed the deputy that she was canvassing, saying that she usually took notes on her phone after speaking to constituents.
The state legislator shared her experience on Facebook, noting that, thankfully, the deputy handled the situation politely. She wrote that the officer called the woman in question and Bynum was able to talk to her directly (at which point the caller apologized).
According to The Oregonian/OregonLive, Bynum was elected to the state House of Representatives in 2016. She serves the 51st District, which encompasses parts of suburban Portland, including Clackamas County. Bynum told the news site that this was the first time someone had ever called the police while she was campaigning.
"It was just bizarre," Bynum told The Oregonian/OregonLive. "It boils down to people not knowing their neighbors and people having a sense of fear in their neighborhoods, which is kind of my job to help eradicate. But at the end of the day, it's important for people to feel like they can talk to each other to help minimize misunderstandings."
We're glad that the deputy who responded to the call treated Bynum with respect and that the caller recognized her error. However, this encounter highlights the extreme bias and double standard that people of color continue to face on a daily basis in this country.
And we need to do better.