This artist puts food in Chanel bags, and we don't know how to feel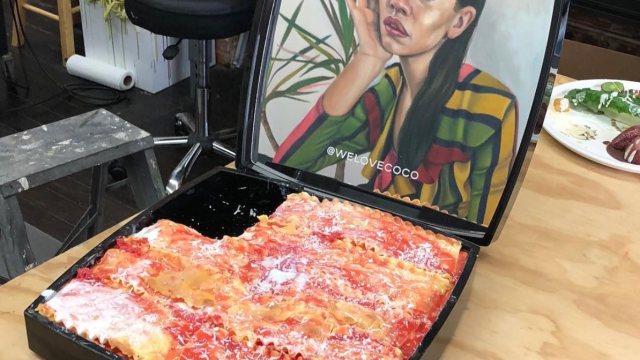 Artist Chloe Wise wants you to have your Chanel bag and eat it too. Her latest piece of art, a sculpture titled Chanel Lasagna, consists of a large Chanel makeup case filled with an entire deep dish lasagna, minus one slice. As reported by The Cut, the Canadian artist's sculpture was recently on display at the New Art Dealers Alliance fair in Miami. The fair ran from December 6th through December 9th, and is "dedicated to the cultivation, support, and advancement of new voices in contemporary art," according to its website.
(And in case you're wondering, sadly, the lasagna is not real).
Chanel Lasagna is far from Chloe's first piece that combines food and art. Her website is full of images of other sculptures from the same series, which she began in 2013. Her piece Pancakes No. 5 combines a Chanel bag with syrup-drenched pancakes. PBJLV consists of a purse constructed from peanut butter and jelly toast and Louis Vuitton hardware. And then there's Ain't No Challah Back(pack) Girl, a backpack made of challah bread held together with Prada backpack hardware.
The sculptures may sound kitschy, but the artist created them to share a powerful message.
In a 2014 interview with Bullett, Wise said,
"Bread is a symbol of status and wealth (think 'the breadwinner' or the use of the term 'dough') and these 'it' bags connoted status in the early 2000s. In those days, (and to a degree even still) these bags represented luxury, status, and afforded their owners instant popularity. I wanted to show the parallels between the idolatry for luxury items in fashion with the equivalent importance of the commodity in the art world."
If Chanel's designers want to start marketing food-safe makeup cases, we won't be mad.