Amy Poehler and Seth Meyers brought back "Really!?!" on Late Night, and we needed this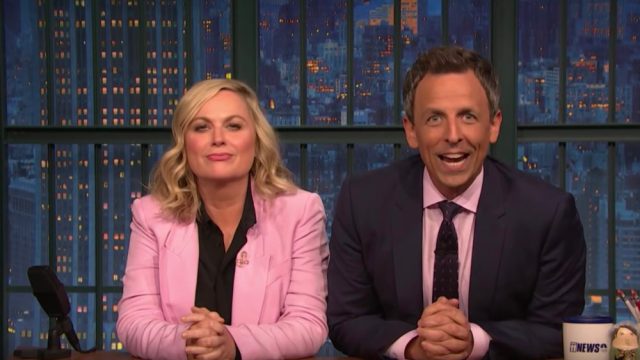 Aging Millennials far and wide remember SNL in the early-2000s. It brought us Will Ferrell, Jimmy Fallon, Amy Poehler, Maya Rudolph, Tina Fey (who was theshow's first female head writer, btw), and so many more. It also brought us the Weekend Update segment "Really!?! with Seth and Amy " where in which the comedians brought up a current event…and proceeded to mercilessly pick it apart. And last night, July 25th, Late Night with Seth Meyers brought the sketch back…with Amy Poehler.
Poehler, who also guested on the episode, joined Meyers in a surprise rendition of "Really!?!" in which the two former co-anchors ripped into James Comey. In case you missed it, in a July 22nd tweet, the former FBI Director offered Democrats some unsolicited advice for the upcoming 2020 presidential election, writing, "don't lose your minds and rush to the socialist left."
Obviously, Poehler and Meyers were having none of it.
"Really?" Poehler began. "I don't know if you remember, but we were just about to have a nice, boring, moderate Democrat for president until you decided to open your mouth a week before the election, you big dumb scarecrow!" Poehler exclaimed. "Really? And, as far as I'm concerned, Democrats can vote for a bong in the shape of Che Guevara and you got nothing to say about it!"
Meyers joined in, asking, "You're telling Democrats not to lose their minds?"
"I don't know if you've noticed, but the party in power is locking babies in cages, the president talks about Vladimir Putin the way Jay-Z talks about Beyoncé, and the White House has more employee turnover than a Dairy Queen in September," he said. "Really!"
Watch the full sketch below.
https://www.youtube.com/watch?v=dwZoCoqzwRI?feature=oembed
We missed watching these two together.
Seriously, guys, can this be a regular thing?