A lone cheerleader took a knee during a recent NFL game, and the photo is inspiring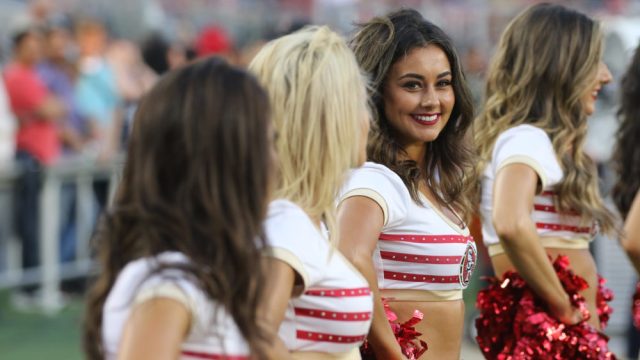 For the past two years, many football players have been taking a knee during the national anthem to protest police brutality. And now, it seems that NFL cheerleaders have also joined the Take A Knee movement. During a recent game, one San Francisco 49ers cheerleader was spotted kneeling during the national anthem.
According to HuffPost, during the 49ers' November 1st game against the Oakland Raiders, a cheerleader took a knee while the other Gold Rush cheerleaders stood. The moment was photographed and tweeted by both Lenny Herold, a spectator, and Damian Trujillo, an NBC Bay Area reporter.
Mariah Mendez, a former member of the 49ers' cheer squad, told NBC News that some Gold Rush cheerleaders first knelt during a game against the Dallas Cowboys on October 22nd, 2017 (which, of course, contradicts reports that the unidentified cheerleader was the first in the NFL to kneel).
"That's the crazy part of all this attention: These protests have been going for awhile," Mendez told NBC.
HuffPost notes that representatives for the 49ers did not respond to their request for comment about the potential protest. As ESPN has reported, the team's owner, Jed York, has supported his players' protests in the past. When the NFL voted in May to fine players who kneel during the anthem, ESPN noted that York was the only team owner who abstained from voting.
Meanwhile, in October 2017, former Jacksonville Jaguars cheerleader Michele Wright told Elle.com that most NFL cheerleaders probably wouldn't protest because they were "little fish in a big pond."
"Although they are of great worth and value to the football experience and their respective communities, many are undervalued," Wright explained to Elle. "So to remain neutral, they wouldn't take a knee."
Whatever her reasons, and no matter how long she's been protesting, we applaud this unnamed 49ers cheerleader's bravery and resolve.