The 30 Rock cast will reprise their roles for a new special, and we're celebrating with night cheese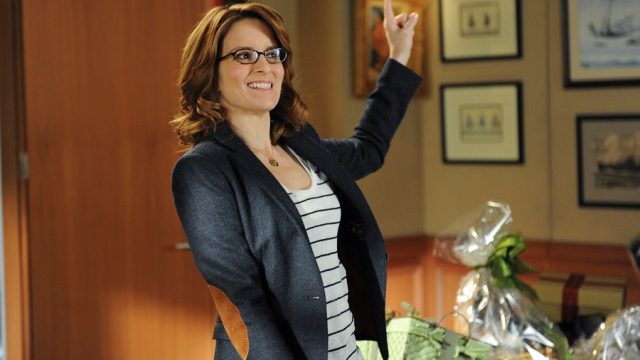 Though the pandemic is awful, scary, and truly Twilight Zone-level bizarre, we're doing our best to find silver linings here and there. We all finally learned how to make sourdough bread, we've reconnected with old pals over Zoom, and our favorite TV casts—including Parks and Rec, Lizzie McGuire, 90210, and The Fresh Prince of Bel-Air—have reunited for us. Now, finally, the cast of 30 Rock is jumping on the bandwagon.
NBCUniversal announced that the cast of 30 Rock will reunite on July 16th for an hour-long, commercial-free special in which they will celebrate NBC's upfront event, which presents shows for the 2020-2021 season. Though done remotely, this will be the first 30 Rock TV reunion since the show went off the air in 2013.
"We're all happy to have this excuse to (remotely) work together again for NBC," Tina Fey (who played Liz Lemon) and her 30 Rock co-creator Robert Carlock said in a June 16th press release. "To quote Kenneth the Page, there are only two things we love in this world, television and everyone."
Fey has already signed onto the event, as has Alec Baldwin (Jack Donaghy), Tracy Morgan (Tracy Jordan), Jane Krakowski (Jenna Maroney), and Jack McBrayer (Kenneth Parcell).
The cast of 30 Rock will also be joined by guests from other NBC and NBC-affiliate shows—and perhaps include some old callbacks from the Fey-led series.
"At NBCUniversal, we're excited to produce an Upfront that reflects a new reality and celebrates our relationship with viewers and advertisers alike," NBCUniversal's Linda Yaccarino, chairman, advertising and partnerships, said, per the press release. "Historically, this event is about the future of programming; this year, it's about the future of our industry—a future where we can meet audiences wherever they are, with the stories that move them. As the old saying goes…when life hands you Lemon, have her host the Upfront!"
The special will first air July 16th at 8 p.m. ET, but it will be rebroadcasted across USA Network, Bravo, E!, Oxygen, SYFY, and CNBC. You'll also be able to stream it on Peacock on Friday, July 17 at 9 p.m. ET. Buy yourself a block of night cheese, and tune in.