Say hello to the newest member of Amy Schumer's crew
Of all the celebrity #squads there are to roll with, I think Amy Schumer's is my favorite. She rolls in a dynamite duo with Jennifer Lawrence, and surrounds herself with other strong women like Julia Louis-Dreyfus, Lena Dunham and Rose Byrne. She's welcoming of males, too—just ask Billy Joel. And now, Amy has a new #squad member: a tiny little puppy.
The comedian recently posted a picture of her and boyfriend Ben Hanisch holding an adorable black puppy. In the pic, he holds the pup while Amy pets her lovingly. Look at her little tongue!
We don't know if Ben and/or Amy actually adopted the dog, or if they were just spending some quality time with her. Either way, the pic is adorable. The three of them are even dressed alike. If that dog is part of Amy's #squad now, we need details. What's her name? Who does she live with? What's her favorite toy to play with? Does she get along with the other #squad members? Do you need a dog stitter?
Thanks to Inside Amy Schumer, she has great practice cuddling with dogs.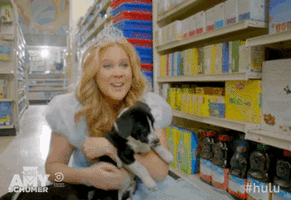 The couple only recently went public with their relationship, but they've been dating for a while under wraps. "We're in love and it's really exciting," she told PEOPLE on the Golden Globes red carpet. BRB, our hearts are melting. Every time we see these two together, they look as happy as can be. So if they did adopt a dog together, things must be pretty serious. More pics, please!
(Featured image via Universal / gif via giphy.)