This NYFW show only cast transgender models, and this is what progress looks like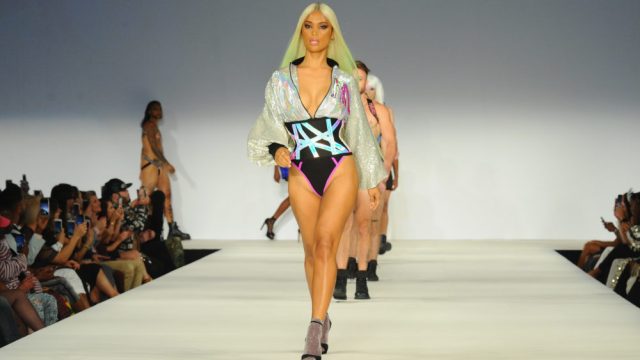 New York Fashion Week Spring 2019 is currently underway, and the diverse models walking the runway this year prove that beauty comes in all shapes, sizes, and shades. And on September 8th, one show made history by featuring exclusively transgender models.
According to Mic.com, all 34 models highlighted in underwear brand Marco Marco's Collection Seven show were transgender. Among the show's stars were Transparent actress Trace Lysette, model and activist Carmen Carrera, Pose actresses Domonique Jackson and Angelica Ross, and YouTuber Gigi Gorgeous.
"Although I have always had trans and non binary people in my shows, it became apparent to me that their presence was often overshadowed by cis gay men or cis gay men in drag," designer Marco Morante told Mic.com. "I wanted to create a space to celebrate trans bodies. This was an opportunity for their presence to be undeniable and reinforce that trans is beautiful."
Lysette, who has never participated in a show at NYFW before, thanked Morante for his inclusive casting choices on Twitter, writing:
"At 36-26-40 I've never been model industry standard, and I don't want to be. I love my thickness. Thanks Marco Marco for embracing ALL types of beauty."
https://twitter.com/udfredirect/status/1038847078540165125
The photos and videos from the show look amazing.
Trans models have appeared in NYFW shows before, including last year, but this is the first time that cisgender models weren't at the center of attention. As model Laith Ashley, who appeared in the show, told them.us, Marco Marco's show was a huge step toward normalizing trans people. Ashley noted that usually, shows only include one "tokenized" trans model, who might disappear after walking the runway.
"This is my third time walking for Marco Marco, he told them, "and I think that he's always had a super diverse group of people walking his shows. But this sends a message to the fashion industry that they need to take responsibility and actually include us."
By featuring so many talented transgender models, Marco Marco is making it clear that trans is beautiful—something immensely valuable for people both inside and outside of the trans community. We hope that future fashion shows will follow Marco Marco's lead, because this is progress, and it's beautiful.