The New York attorney general race is the most diverse it's ever been—and the winner will make history no matter who wins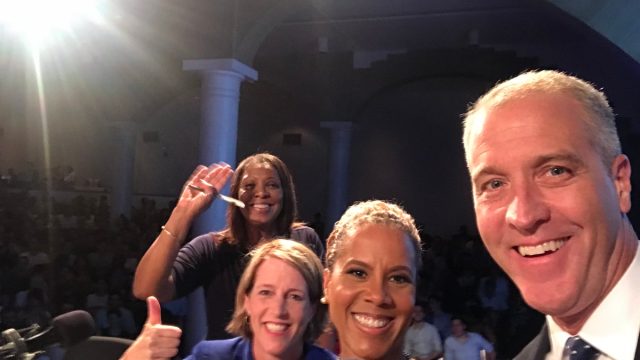 The 2018 New York primary elections are coming up on Thursday, September 13th. And while the most buzzed-about story is Cynthia Nixon running for governor (and her controversial bagel order), N.Y.'s gubernatorial race isn't the only one to watch. The New York attorney general race is just as competitive. Regardless of who wins, their election will be a historic one.
There are four candidates on the Democratic ballot for the New York attorney general race: Sean Patrick Maloney, Letitia James, Leecia Eve, and Zephyr Teachout.
Maloney currently serves as a New York representative and is the first openly gay congressman from the state. If he wins, he'll become the first openly gay statewide official in Congress, The New York Times reports. Meanwhile if James, a public advocate, or Eve, a Verizon executive, wins, one of them will become the first black woman to win a statewide office position. And if Teachout, a law professor who is eight months pregnant and due in October, wins, she'll  become the first new mother to be elected attorney general.
"This is what the primaries should look like," Teachout said during a recent forum for Democratic attorney general candidates, according to The New York Times.
The New York attorney general race indicates a big shift in American politics.
It's no secret that more diverse candidates are running for office, which many see as a direct response to Donald Trump's election. In New York, some believe the resignation of New York attorney general Eric T. Schneiderman explains the more diverse ballot.
The New York Times reports that back in May 2018, Schneiderman stepped down after allegations surfaced that he'd physically abused multiple women. His replacement, Barbara Underwood, became the first woman to hold the position—and may have inspired others to join the race.
All four of the New York attorney general race candidates are celebrating their diversity.
Their ads and campaign materials show what makes them different, and why their differences help make them the best candidates.
Teachout even released an ad featuring her ultrasound to help eliminate the stigma around pregnant women running for office.
https://twitter.com/udfredirect/status/1039215431540764672
Despite their individual campaign focuses, every candidate in the New York attorney general race has at least one thing in common: they're all hoping to undo the work that Trump is doing in office.
And regardless of which candidate wins, we're glad to see more people from marginalized groups running for office. See you at the polls.