Eat 12 Grapes Under the Table for Good Luck? TikTokers Share Their Fave New Year's Eve Traditions
Dress in polka dots, eat your beans and greens, and other trendy traditions to ring in 2023.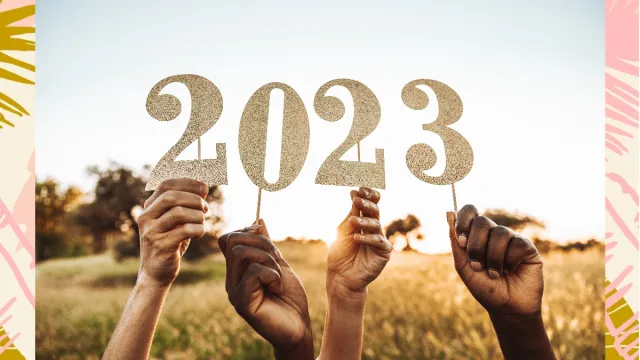 If your New Year's resolutions keep crashing and burning, maybe it's time to start some new traditions to set your new year up for success.
Lots of cultures around the world ring in the new year with rituals that are sometimes cute, sometimes quirky, but always fun (and, in some cases, even delicious).
Why keep to one New Year's Eve tradition when you can try a few of them and increase your chances of peace, prosperity, and maybe even a shot at love in 2023?
Here are a few of the best New Year's Eve rituals TikTokers are sharing with the world for a bright and shiny new year.
RELATED: 7 New Year's Eve Ideas for Couples Celebrating At Home
Eat 12 grapes under the table
Grab a bunch of grapes and get ready to eat them quickly, because you'll be under the table noshing on them between 11:58 pm and 12:01 am on New Year's Day. A video by TikTok user @vaatsalya.c went viral after she explained how this New Year's trend is particularly popular in the Hispanic community.
Make sure you're wearing all red clothing, and smack on some red lipstick for good measure too.
The grapes represent each month of the year and you're meant to make a wish with each one so hopefully, some come true before the new year begins.
Black eyed peas and collard greens
Beans and greens for good fortune? This tradition has roots in the Southern states of the U.S., where it was thought that eating black-eyed peas and collard greens would make you richer in the new year.
An easy way to get both at the same time is by making Hoppin' John, a dish that combines the two ingredients with pork, which is also supposed to bring good luck. Tiktok user @tireironbbq broke down his tried-and-true recipe that you can make ahead of the big day.
Wear polka dots
If there's only one time of year you get to break fashion norms, it's definitely New Year's Eve when different kinds of clothing bring different kinds of luck.
Filipinos have a tradition of wearing polka dot clothing to boost their chances of a great new year, and they'll even keep extra polka dot pieces on hand should guests arrive dot-less.
Run around the block with your suitcase
Want to go places next year, physically and metaphorically? Make sure your suitcase is ready when the clock strikes midnight on January 1, because you're going to run around outside with it.
Colombians, in particular, swear this tradition brings more chances for exploration and discovery. No need to pack anything either, running around the block with an empty suitcase is perfectly fine.
Predict your future with wax
A kind of cozy tradition hailing from Northern Europe involves melting beeswax down to a thin liquid, then pouring the liquid into a bowl of cold water. The wax will take on squiggly shapes, which are interpreted in different ways to predict a few things your future may hold in the new year. Just try not to get burned in the process.
Pop some champagne bottles
This is a great tradition for couples, friends, or anyone who wants to try and stick to their New Year's resolutions with some bubbly motivation. Add tags with your goals and dreams to some champagne bottles and break 'em open once you've achieved them to celebrate your success.
What is your favorite way to ring in the New Year?
Kat is a born and raised New Yorker exploring the world as she writes, eats, and everything in between.
Read more