Oh man, this new "Westworld" teaser could reveal something HUGE about one of our favorite characters
On Westworld, Maeve's character arc has had the most growth: in the second episode, "Chestnut,' she woke to find herself in the Westworld technical offices under surgery. Naked and bleeding, she tried her best to fight off the surgeons, only to discover the bodies of her friends in the midst of being cleaned, her reality possibly crashing around her.
And then she was knocked out.
It stands to reason that the surgeons who may or may not have forgotten to put Maeve "to sleep" won't report her rampage through the Westworld offices — they'd no doubt be fired. So she's put back in the park. And if this little character teaser is any hint, they haven't been successful in completely trying to wipe her mind:
https://www.youtube.com/watch?v=K5goqbe5QdM?feature=oembed
Yikes. Maeve is "waking up," and we have a feeling she won't take her treatment mildly.
This teaser hints at quite the rising level of action, and it's getting tense.  We wouldn't be surprised to see Maeve with a gun in hand before the ten episodes of the first season conclude.
And, according to dreamboat James Marsden (another "host" on the show), that'd be only the beginning. Apparently the creative Westworld offices closed in January for a significant amount of time so the creators of the show could plot out the next five or six years of episodes. That's right: years. As James Marsden told EW:
"It wasn't about getting the first 10 [episodes] done, it was about mapping out what the next five or six years are going to be. We wanted everything in line so that when the very last episode airs and we have our show finale, five or seven years down the line, we knew how it was going to end the first season."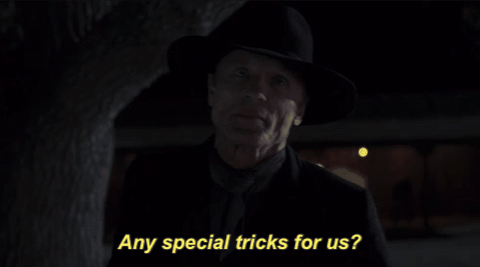 For those of us who are fans of mythology-driven shows such as Game of Thrones, this is welcome news. We wouldn't want another Lost scenario, where the show falls apart in the later seasons. The creators and cast of Westworld know where they're going…they're just not telling us. And isn't that half the fun?