Ashley Graham and Teyana Taylor suited up in a one-piece that gives us "Baywatch" vibes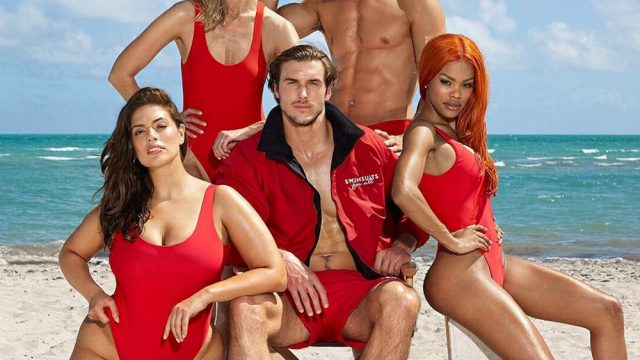 If you've ever wished for the sun-kissed and carefree lifestyle of a Baywatch babe, sans all the rampant objectification and television set drama, then your dreams may finally come true. The new line of bathing suits coming out of swimwear brand Swimsuits For All is a Baywatch-themed reboot of the red one-piece trend. Except, this time, we all get to channel the Baywatch lifeguard look without being forced to run on a beach in slow motion. So, it's a win-win all around.
If the Baywatch theme wasn't enough to draw your interest, Ashley models along the likes of the talented dancer and fashionista Teyana Taylor (you'll recognize her from Kanye West's Fade video), and the popular model Niki Taylor in the swimsuit campaign!
Most of the suits in Swimsuits For All 2017 line are priced between $30 to $70, so there's a nice range of affordable options!
However, the red one-piece is $58.80 if this is the swimsuit that strikes your fancy.
You can achieve the Baywatch look without all of the television syndication checks.
This campaign makes us want to hit up the beach and blast Current of Love from our boombox.
We could use our phones, but a boombox feels more fitting in this case.
We have a feeling David Hasselhoff would not only approve, but feel honored by this campaign.
It might inspire him to get out his swimming gear, who knows?!
You can shop your own Baywatch-inspired summer looks on Swimsuits For All, so you can live out the slow motion montage you've been dreaming of.