This new mom got *very* real about her postpartum body on Instagram, and what she said is so important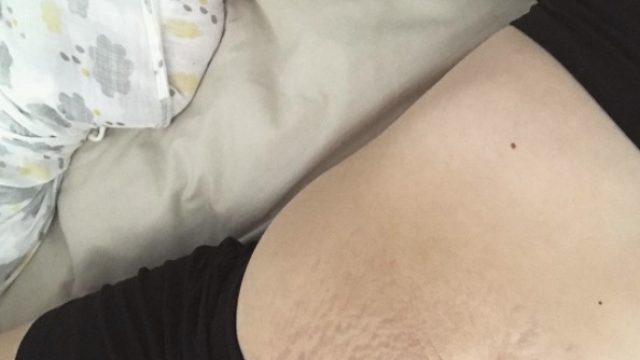 At a time when people are signing up for gym memberships en masse and listing fitness goals among their resolutions for the new year, one new mom got very real about her postpartum body on Instagram, and her transparent message is super important, particularly for moms who are feeling the pressure to "bounce back" after giving birth.
As Refinery 29 reports, new mom Kristelle Morgan posted a photo of her adorable daughter Amelia sleeping peacefully next to Morgan's exposed belly. In her caption, she wrote about why she chose to show off her stretch marks, openly chronicling her ongoing struggles with body acceptance.
"We all know having a baby changes so much more than your body, but it's been extremely hard for me to come to terms with just what pregnancy did to my body," Morgan began. "I used to be pretty fit, I had my ups and downs with body image but overall I know I looked pretty good. Then came pregnancy and I was huge. I got HUGE towards the end extremely quickly."
https://www.instagram.com/p/BOi4f2tBNCy
As Morgan explained, extra amniotic fluid coupled with Amelia being in the breech position resulted in Morgan developing stretch marks at 32 weeks and an "extra large stomach," which didn't necessarily coincide with her self-professed "unrealistic standards" of how her post-birth body would look.
But just like other new moms sharing their postpartum bodies on Instagram, Morgan's message comes with a healthy dose of body positivity and self-compassion. As she emphasized, accepting your new body doesn't happen overnight; it's actually an ongoing process that requires time and patience both with yourself and your body.
"My body temporarily looking like this is a good price to pay for the sweet little angel I have sleeping next to me," Morgan wrote. "2017 I'll work to get back into shape, but it takes time. I have to remind myself to be nice to my body, I spent 9 months creating a life and yes it may never look like it used to but that's okay. But it's also okay to be sad about it. We made life, this is what that looks like."
We love Kristelle's candor, particularly on social media. It is so necessary to offer balance and authenticity to our timelines, which are oftentimes flooded with misleading images of perfect lives. We give her all the kudos for encouraging others to find empowerment in their individual body acceptance journeys.