New Mexico just became the first state to take a huge step to prevent shaming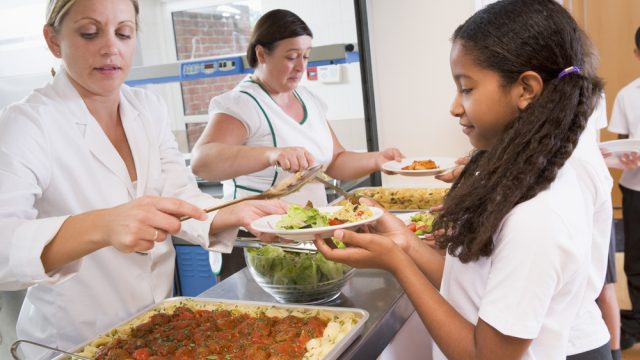 For some reason, lunch shaming in schools has been an acceptable way of handling embarrassing situations for a few years. Kids who either forget their lunch money, or can't afford lunch altogether, are shamed for it. But a new law in New Mexico is outlawing lunch shaming, for once and for all. We're hoping every other school throughout the country follows their lead.
Some schools stamp students' arms with the words "I need lunch money" if they don't have enough money. And some schools even make students throw food in the trash if they've already put it on their trays but can't pay for it.
This logic is clearly unreasonable, humiliating for students, and needs to be drastically changed.
On Thursday, New Mexico Governor Susana Martinez signed the country's first Hunger-Free Students' Bill of Rights. It works with parents to pay for  lunches or helps them sign up for federal assistance. The new law applies to almost all schools receiving federal subsidies for students'  lunches. Most importantly, it protects students from being shamed for something so out of their control.
"People on both sides of the aisle were genuinely horrified that schools were allowed to throw out children's food or make them work to pay off debt, said Jennifer Ramo, executive director of New Mexico Appleseed, an anti-poverty group that initiated the law. "It sounds like some scene from 'Little Orphan Annie,' but it happens every day.
The law should also help staff members put in a tough position by lunch-shaming tactics. No one knows better than teachers how hard it is to get hungry kids to focus. Last year, an elementary school cafeteria staffer in the Philadelphia area quit her job instead of refusing hot lunches to students who couldn't pay. And other staff members often use their own money to pay for students' meals.
This new Hunger-Free law will be incredibly beneficial for both students and faculty members in schools in New Mexico — and hopefully other schools very soon.