The plot of the new "Mary Poppins" movie is actually not at all what we expected
Next time the wind changes, it's going to blow a brand new Mary Poppins movie our way. Earlier this year Disney announced that they were bringing everyone's favorite, spoonfull-of-sugar nanny back to life on the big screen, while we were all like YAS, we were also nervous at the same time.
Would *new* Mary Poppins live up to the wonder and magic that we love so much about the OG one starring national treasure, Julie Andrews? With Emily Blunt in the title role, probably. And now with some new information from her co-star, Lin-Manuel Miranda, we can all breath a collective sigh of release. It already sounds like this Mary Poppins is going to be awesome.
Talking to Variety, Miranda confirmed that the movie is not a reboot, but 100% a sequel and picks up right where we left off…plus about 20 years.
"Michael and Jane Banks have grown up, and they find themselves in their own spot, and Mary Poppins comes back to take care of Michael's kids," Miranda explained.
As for his character, while we already knew he'd be playing a lamplighter named Jack, we kinda assumed he'd be like, Bert 2.0 (or, Dick Van Dyke 2.0). And he is.
"Jack...sort of grew up apprenticing to Bert. So I know if Mary Poppins shows up, it's gonna get awesome. I perform that function in the movie, of saying: 'Y'all don't know about Mary Poppins. When Mary's around, cool sh– happens.'" Yes, every movie needs that. Put a Bert in every movie!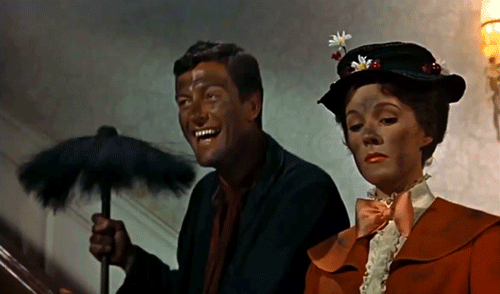 If you think you're excited just thinking about this, Miranda is actually the MOST excited.
"I'm really excited I get to be part of [this Mary Poppins] legacy," he continued. "That movie is everyone's childhood. Mine too. Although I never got through 'Tuppence' [the song 'Feed the Birds'], because that lady made me so sad that I would burst into tears. It took me a long time to actually see the end of the movie.
Just listening to his excitement sure gets US excited about the prospects of this new movie. Mary Poppins will fly into theaters on December 25th, 2018.