Kat Von D Beauty nude lipsticks are coming, and we can't wait to get our hands on them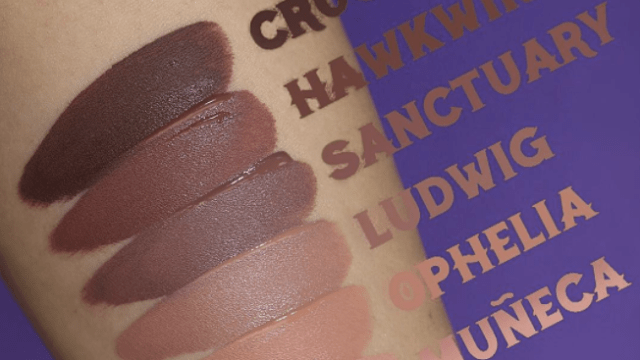 You can't help but see Kat Von D's success as a beauty mogul and think, "You go, girl!" Especially if you've been a fan since her days on Miami Ink.
Kat Von D Beauty's Everlasting Liquid Lipsticks have a cult following, and rightfully so. The vegan, cruelty-free shades are super pigmented, long-lasting and not as dry as other liquid lipstick formulas. Kat's adding to the 30-shade collection with six new nude colors set to hit Sephora.com  on January 24th. The new nude Everlasting Liquid Lipsticks will also be sold as a bundle in February.
Kat's Everlasting Liquid Lipsticks retail from $20 so we expect the same this go 'round. There's usually a price break on bundles so expect the collection of six to be just under $120, probably $110 but we're hoping for an even $100.
https://www.instagram.com/p/BPJitSrAF3O
From left to right there's Crucifix (a deep chocolate), Ophelia (a nude chestnut), Hawkwind (a nude sienna), Ludwig (a nude fawn), Sanctuary (a cool sepia), and Muñeca (a nude petal).
https://www.instagram.com/p/BPBT4O1gDqw
She even blessed us with swatches!
https://www.instagram.com/p/BPBDGnqACyW
Mark your calendars for January 24th if you wanna get your hands on these shades. If you've got your heart set on a bundle, start saving those coins like, NOW.