These are all the Kat Von D Beauty products coming out for the rest of the year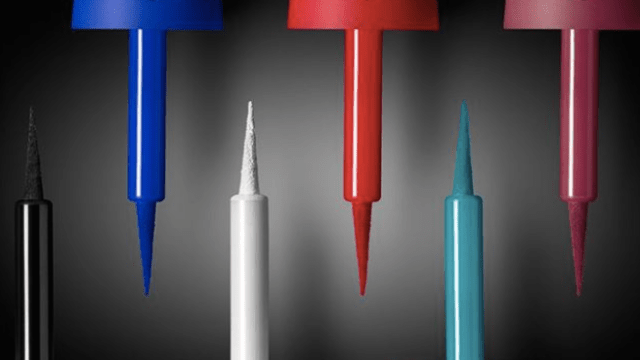 If there's one brand that can unite beauty lovers everywhere, it's Kat Von D's eponymous brand. The brand's high-quality, unique, vegan, and cruelty-free products are a must in any makeup-loving person's kit. And while we're still riding high from the release of Kat Von D Beauty's gorgeous 10th Anniversary collection, our eyes are peeled for what's headed our way next. Between the hints she's dropped in interviews and the social media sneak peeks, there are some seriously fabulous products headed our way in the second half of 2018.
Kat has confirmed a good amount of future launches in a recent interview with HelloGiggles while at her Kat Von D Beauty 10th Anniversary launch party. One included the long-standing rumor of a highly-coveted makeup palette that's going to make beauty lovers everywhere freak out and run to their nearest Sephora.
So whether you're looking to add to your lipstick collection, need some new eye products or are waiting for a perfect palette, Kat Von D Beauty's definitely got you covered for the rest of the year.
Here are all the Kat Von D Beauty products on the horizon.
1Lolita Palette
https://www.instagram.com/p/BjLE8gAnYfI
Few makeup products have been as highly-anticipated as this palette, inspired by KVDB's most popular shade, Lolita. It's going to be a mad dash to get our hands on this beauty once it's out, and hopefully Kat gives us a good glimpse of it soon.
2Inkwell Liner
https://www.instagram.com/p/Bk5pkj9nENo
When Kat spoke to HelloGiggles, she mentioned a brand new eyeliner collection headed our way. The brand just posted a peek at the new line, which launches on September 20th with six shades: Trooper Black, Darkwave, Whiteout, Outlaw, Dreamer, and Vampira. Given how stunning her recent brow line is, we can only imagine how revolutionary this colorful bulletproof matte liquid liner will be.
3Lash Liner
https://www.instagram.com/p/BkQh-mbHby0
In less than a month, KVDB is launching a stunning new eyeliner called Lash Liner. Will the full collection mentioned above be a part of it? Only time will tell. You can snag this liner in-stores and online on July 20th.
4Fetish Palette
https://www.instagram.com/p/Bk0q2FUHHFO
We've yet to get a glimpse of this stunning new palette, but the packaging alone is jaw-droppingly gorgeous, not that this surprises us from Kat.
5Two New Foundation Formulas
https://www.instagram.com/p/Bgjayd5nxXe
Kat dropped this major news during our interview with her. It doesn't get much better than Kat's original Lock-It Foundation formula, and we can't wait to see what other finishes and formulas are headed our way. Can we expect something a bit more sheer?
6Metal Crush Liquid Highlighters
https://www.instagram.com/p/BkLbK19HvRh
We are mere days away from the launch of these vibrant liquid highlighters. Snag them on July 13th online at Sephora and Kat Von D Beauty's websites, and in-stores on July 20th.
7Dagger Liner
https://www.instagram.com/p/Bk51BjCncQW
On August 20th, winged-eye aficionados will be able to get their hands on KVD's Dagger Liner, which is described as the kid sister of Tattoo Liner. It will help you achieve the perfect "kat-eye."
8Mascara
When HelloGiggles last spoke to Kat, she mentioned that a brand new mascara formula was in the works. We'll be waiting with bated breath for more news on this exciting new product – we always need more mascaras.
9Swoon Eyeshadow Single
https://www.instagram.com/p/Bk33r4Znvmu
When the Too Faced x Kat Von D palette came out, fans freaked out over one particular shade called Swoon. So KVD is releasing it as a full-sized single on October 23rd! Have you ever seen a more gorgeous shade than this metallic crimson?
Keep your eyes peeled for further developments, because as always, we have a feeling Kat will end this year with a bang.