This New Jersey deputy mayor just resigned after a bizarre and racist rant about immigrants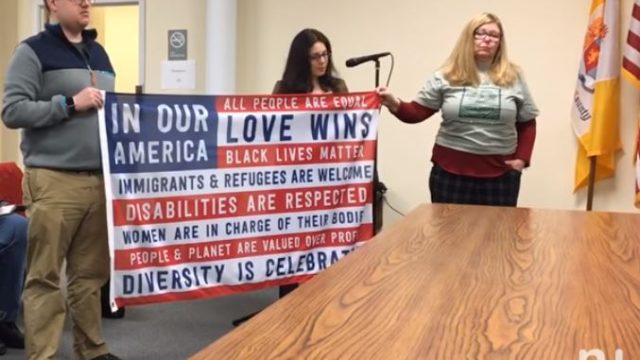 President Donald Trump, has been perpetuating racist stereotypes and incorrect information about immigration since he took office. But he's not the only politician to spread these damaging views. On February 13th, a New Jersey deputy mayor resigned after posting a racist rant about undocumented immigrants to Facebook.
On February 10th, Mendham Township Deputy Mayor Rick Blood compared President Donald Trump to an exterminator and illegal immigrants to "rabid, messy, mean raccoons" in a Facebook diatribe. He wrote that the United States is "being invaded by illegals" and that Trump "is the only guy who seems to understand what people want."
In the wake of criticism from the Mendham community, Blood deleted the post the next day and said he had copied and pasted the post from a friend. He later wrote a followup post apologizing and claiming he had not meant to cause offense.
"The purpose of the post was to illustrate, however poorly, one of the reasons our president was elected. Which was to clear the log jams in Washington," Blood wrote in his apology. "Yes this post will be construed as offensive as some, however that was not its intent."
https://twitter.com/udfredirect/status/962878952820936704
At a Township Committee meeting on February 12th, attendees of the public session, including Blood's fellow committee members and activists, sharply criticized the post and called for Blood to resign. Immigrant advocacy group Wind of the Spirit described Blood's post as "calling for the extermination of undocumented immigrants." Blood later said that he would leave his post if the committee desired and apologized for the post saying it was "insensitive at best and cruel at the worst."
After the committee met in a closed session to discuss the matter further, Mayor Richard Diegnan Jr. announced just after midnight on February 13th that Blood would step down from his position.
https://www.youtube.com/watch?v=zxAmIb_LZ4I?feature=oembed
Regardless of whether Blood wrote the post himself or not, dehumanizing an entire group of people is morally reprehensible, especially for someone in a political office. In the face of racism, it's important to support immigrants and organizations that work to help them. We applaud the people of Mendham Township for doing the right thing and removing Blood.