The new "It" movie has already broken this box office record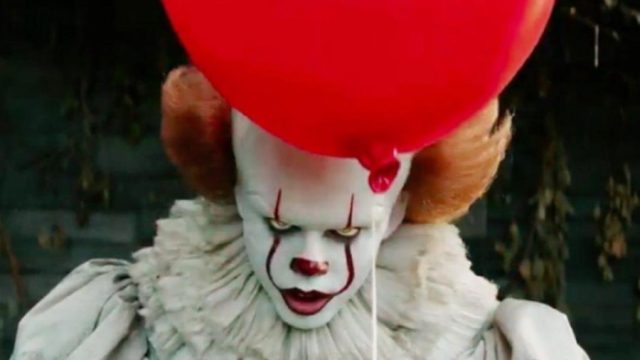 To non-horror movie fans, the trailers for the new It movie are absolutely change-the-channel terrifying. Yet, there are apparently millions of people who have been waiting to go see it in theaters. And because of all these fans, the new It movie has already broken box office records. According to Variety, the Stephen King adaptation pulled in $13.5 million on Thursday, the third-highest grossing movie this year. (Beauty and the Beast opened at $16.3 million and Guardians of the Galaxy Vol. 2 grossed $17 million.)
It, the movie, also broke the record for the highest-grossing opening for a horror movie that's R-rated, released in September. And a record for any Stephen King adaptation.
So what does this mean?
Uh, just that a lot of people are going to be having nightmares for the next month, that's what. Viewers maybe, but Hollywood execs are likely to fulfill their fall box office fantasies. After what some insiders have called a "dismal" summer for the box office, according to The New York Times, It is expected to earn anywhere from $55 to $90 million over all, which really good after such a slow summer.
The movie, ICYMI, is based on King's 1968 horror novel that focuses on a group of friends in Maine, called the Losers Club, that fights the scary AF demon clown named Pennywise, played by Bill Skarsgard. Despite its terrifying plot, people love this kind of movie. It's at least a solid distraction from all of the in-real-life scary news these days — when it comes to demon clowns or unprecedented storm systems, it really is a toss-up this year.
The movie will likey reach the estimated box office numbers based on the great reviews it's been getting so far. On Rotten Tomatoes, it already has an 89% "approval rating." ComScore and PostTrak data have 48% of viewers calling the movie "excellent," and 60% would "definitely recommend" the film. All based on simply watching the trailer for the movie.
With $13.5 million just on Thursday alone, It is going places. To put it in perspective, Deadline reports that other Stephen King adaptations have done nowhere near as well. In 1999, for example, The Green Mile grossed $18 million over its opening three-day weekend, and The Dark Tower did just $19 million. Both of those films were also targeted at a more general audience — or so movie buffs thought.
It isn't just bringing in Stephen King fanboys, either. According to ComScore, 31% of the audience is males over 25 years old, and 23% is males under 25. But women are flooding the theaters, too. Females under 25 made up 24% of the audience this weekend, and 23%were females over 25.
So take note Hollywood bigwigs: Women and men are buying those tickets and breaking box office records. Hopefully, they'll remember that the next time they're signing on writers, directors, and cast members for the sequel.